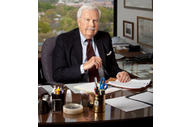 I want to reach more potential clients who are in need of both my experience in insurance and commercial law as well as my mediation skills. - Joseph F. Cunningham
Arlington, VA (PRWEB) February 06, 2014
After more than four decades of practice, attorney and educator Joseph F. Cunningham has no plans to slow down. After a stellar career that has seen him litigate and mediate thousands of high-profile cases and teach at some of the most prestigious schools in the country, the famed attorney and alternate dispute resolution professional has announced his membership in Mediation.com, the fast-growing mediation network, as part of a bid to raise his practice's online profile.
"Because of my work in education and my high-profile litigation practice," said Cunningham of the move, "people think of me as an insurance and commercial law attorney. I wanted to re-establish my mediation practice. Joining Mediation.com is the ideal way to do that. I want to reach more potential clients who are in need of both my experience in insurance and commercial law as well as my mediation skills."
A graduate of Columbia Law School in New York (where the Insurance and Commercial Law Chair is endowed in his name), Mr. Cunningham has run his own insurance law practice since 1970 and has taught or lectured at the Georgetown Law Center, the University of Maryland, the University of Virginia and on numerous CLE courses. Widely published in publications such as the Journal of Civil Litigation, the Arkansas Law Review, and the Defense Counsel Journal, he also brought his writing skills and deep knowledge of the law to co-writing the Virginia State Bar Monograph on Insurance Law. His areas of practice concentrate on health, contract, employment, insurance, personal injury, product, professional liability, and administrative law.