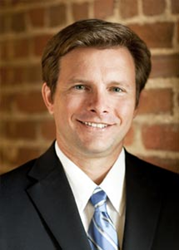 Getting the parties together to engage in dialogue and an exchange of ideas and options can often allow for more creative, satisfying, and cost-effective solutions to problems. - Dan Koenig
Greensboro, NC (PRWEB) January 08, 2014
Recognized for bringing the same level of passion to his litigation and mediation clients as he does to his sense of community service, Dan Koenig recently joined Mediation.com. This move is a part of Dan's ongoing efforts to bring his dispute resolution skills to a broader range of clients, including individuals and business owners, who prefer to have their legal disputes resolved in a private, efficient, and cost-effective manner. "Mediation.com will help me establish a more substantial online profile and better enable me to connect with individuals and entities seeking dispute resolution alternatives to litigation, which can often be very expensive, time-consuming, and emotionally taxing," said Dan.
Whether he is handling a dispute among shareholders of a medical practice, a disagreement among beneficiaries of a trust or heirs of an estate, or an equitable distribution case between spouses, Dan believes that litigation is often unnecessary and is rarely the best approach to addressing these and most other types of legal disputes. "Getting the parties together to engage in dialogue and an exchange of ideas and options can often allow for more creative, satisfying, and cost-effective solutions to problems. Often business partners, family members, and parents of minor children need to be able to move beyond disputes and preserve relationships - mediation provides the opportunity to seek out 'win-win' solutions that are not available through the litigation process where a judge or jury decides only a limited set of legal issues." Dan also points out that "even when it becomes necessary to file a lawsuit in court, virtually all cases these days, whether in state or federal court, are being ordered to mediation. I have found that most people would rather participate in mediation or other forms of dispute resolution before a lawsuit is filed and the public mud-slinging begins."
Dan is a NCDRC Certified Superior Court Mediator. He has extensive experience as both a litigator and mediator, representing individuals and businesses of all sizes in matters involving contracts, employment-related disputes, personal injury/wrongful death claims, insurance coverage and bad faith disputes, estate disputes and will contests, and unfair trade practices claims.
In his family law practice, Dan was selected by his peers in the profession for North Carolina Business Magazine's "Legal Elite" for 2012 in the family law category. Dan is also a member of the Triad Collaborative Family Law Practice Group (http://www.triadcollaborative.com/). Dan routinely advises and represents clients in matters relating to separation, divorce, and adoptions, including equitable distribution of property, alimony, and child custody.
Dan is a graduate of Duke University (1994) and the SMU Dedman School of Law (1997). In the community, Dan has served on the Steering Committee and Grantmaking Committee (Chairperson, 2012-2013) of the Community Foundation of Greater Greensboro's Future Fund. In addition to being a presenter of the Parenting Under Two Roofs program at the Children's Home Society of NC, he also serves on the Board of Directors of Seven Homes (a foster care and adoption services agency) and Holy Trinity Day School in Greensboro. In recognition of his many hours of pro-bono legal services, Dan has been inducted into the Greensboro Bar Association's Herb Falk Society three times.