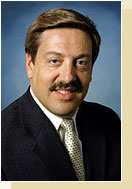 For me, the best outcome is always going to be one which benefits all involved and gets everyone on board with a mutually beneficial solution. That's always my goal, and I'm always looking for ways to achieve it. - Daniel Bacalis
Hurst, TX (PRWEB) March 21, 2014
Having served the families of Tarrant County and the Dallas-Fort Worth Metroplex for more than thirty years with his expertise and uniquely positive approach to family law issues, Daniel Bacalis recently announced his membership in Mediation.com, the premier online mediation network in the country.
"I've dedicated my career to helping families," said Bacalis of the move. "That goes beyond just drafting documents and going through the motions of the law. I'm focused on helping families deal with the crushing fallout of disputes, divorce, and custody issues. For me, the best outcome is always going to be one which benefits all involved and gets everyone on board with a mutually beneficial solution. That's always my goal, and I'm always looking for ways to achieve it. Joining Mediation.com is a clear way to achieve those goals – it gives me access to a national network of resources and makes it easy for families in need to find me."
Bacalis, a graduate of the University of Michigan and the South Texas College of Law, is Board Certified in Family Law by the Texas Board of Legal Specialization and is a member of the Texas Academy of Family Law Specialists. His practice is wholly devoted to family law and family issues, from simple divorces to out-of-state child custody and support disputes, with a concentration on simplifying and streamlining the process wherever possible to make it more accessible and effective for all his clients. As part of his efforts to make the process as easy and emotionally insulated as possible, he gladly offers a free consultation service to all prospective clients.