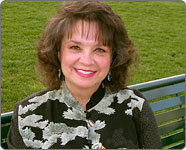 It has always been my goal to provide a safe, caring, and confidential environment where in families can successfully resolve any issues between them and to give them tools to handle the process. - Dr. Kathy Memel
Beverly Hills, CA (PRWEB) December 12, 2013
After more than fifteen years as a Licensed Marriage, Family and Child Counselor in the State of California, including serving as a Family Mediator at the Los Angeles Superior Conciliation Court, Kathy Memel, Ph.D. has brought her experience and expertise in the field of dispute resolution for families to one of the nation's premier mediation network, Mediation.com.
"Mediation is absolutely essential in family disputes involving divorce or custody issues," said Dr. Memel. "It takes heart and creativity to help families navigate those waters without causing more harm than good. It has always been my goal to provide a safe, caring, and confidential environment where in families can successfully resolve any issues between them and to give them tools to handle the process."
Aside from her mediation practice which involves child custody mediation, divorce mediation, business and family mediation, Dr. Memel is trained in parenting skills education and individual, couple and family counseling and psychotherapy. Her expertise in dealing with the volatile emotional issues that can arise in child custody cases has helped approximately 90% of the families she works with reach an agreement and leave with a positive attitude. As a former Conciliation Court Family Mediator at the Los Angeles Superior Court, Dr. Memel worked with numerous parents and helped them create workable Parenting Plans for their children. She has developed a 10-page Child Custody & Visitation Parenting Plan which she customizes for clients to include all aspects of parenting during and after divorce.
Dr. Memel's five years of experience as a professional paralegal in family law provides an excellent legal background that serves her well, either when working independently or as part of a therapist/attorney team. She is a recognized member of the California Association of Marriage and Family Therapists, Academy of Family Mediators, as well as the Association of Family & Conciliation Courts.