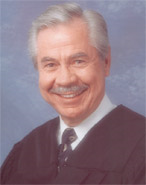 Helping people resolve their differences is what I do. It's what I did as a State Assemblyman and it's what I want to do today. - Robert Gaston
Las Vegas, NV (PRWEB) November 13, 2013
After a varied and brilliant career that includes more than a decade as an educator and administrator, four years as an Assemblyman in the Nevada State Legislature, more than two decades as an attorney and more than a decade as a Judge in Nevada District Court, Robert Gaston has brought his immense experience and mediation expertise to Mediation.com.
"I've been involved in dispute resolution at just about every level you can be involved – from acting as a judge in family cases to arguing in court as an attorney to dealing with kids and teachers as a school principal," Gaston said. "Helping people resolve their differences is what I do. It's what I did as a State Assemblyman and it's what I want to do today."
Since his appointment as a mediator by the Nevada Supreme Court in 2007, he has successfully handled 147 cases involving domestic issues such as guardianship, abuse and neglect, drugs, truancy and adoption issues. As a private mediator, however, the number of disputes he has successfully resolved exceeds 1,000.
Gaston is the man behind the Teen Drug Court and the creator of the 24/7 Emergency Protective Order. In addition to receiving the "Peacemaker of the Year" award from the Mediators of Southern Nevada in 1997, Gaston has also earned the Man of the Year award for Community Service by the Las Vegas Chamber of Commerce and the White Hat Award for Authoring the Outstanding Law of 1987 in the Nevada Legislature.
After earning his MA in Education from California Western University and Doctorate in Education from the University of Nevada Las Vegas, Gaston graduated with a JD from California Western School of Law.