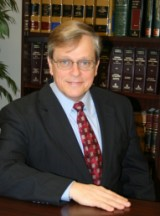 By joining Mediation.com, I open my services up to the wider community I serve and make it easier for people to locate a trained, experienced professional who has a world-class background but a local sensibility. - Eddie Winstead
Sanford, NC (PRWEB) January 07, 2014
Eddie Winstead has dedicated his life to serving the needs of his clients in North Carolina, building a reputation as a pillar of the local community in the process. Towards the goal of serving all the potential needs of his client base, Eddie recently announced his membership in the premier online mediation network Mediation.com.
"Part of my role as an attorney and mediation professional was to be available to clients and potential clients," said Eddie. "No one should have to work hard just to find the right attorney for their needs or the right professional to mediate their issues. By joining Mediation.com I open my services up to the wider community I serve and make it easier for people to locate a trained, experienced professional who has a world-class background but a local sensibility. That's what my clients – present or future – deserve, and that's the consideration that guides all of my decisions."
Eddie focuses on commercial and residential real estate, traffic and criminal law, and estate law. He started his career in private practice, then as an Assistant District Attorney, and finally as a member of Harrington, Gilleland, Winstead, Feindel & Lucas. He also currently serves as serves as the Attorney Advocate for the Guardian ad Litem in Lee and Harnett Counties.
Born in Washington, North Carolina and a graduate of Campbell School of Law, Eddie has lived in Sanford for thirty years, and has also served on (and Chaired) the Lee County Board of Education as well as the Lee County Group Homes Board of Directors.