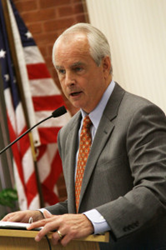 …the vast majority of all healthcare-related suits result in eventual settlement terms that are depressingly similar to those that could have been mediated or facilitated much earlier. - James Purcell
Hyannis, MA (PRWEB) January 09, 2014
Specializing in alternative dispute resolution, with a focus on the healthcare industry, James Purcell has announced his membership in one of the leading mediation networks in the country, Mediation.com. Jim's primary goal for this career move is to help more people who are looking for someone who understands the more complex issues in the industry and to help them find solutions that suit the interests of all parties involved in the dispute.
Jim explains, "… the vast majority of all healthcare-related suits result in eventual settlement terms that are depressingly similar to those that could have been mediated or facilitated much earlier. Major litigation with ongoing business partners, which participants in the healthcare system usually are, is debilitating, distracting, and the very antithesis of good business."
Prior to working as an alternative dispute resolution professional, Jim was the CEO of Blue Cross & Blue Shield of Rhode Island (BCBSRI). His work included being the "closer" when his company reached impasse with larger hospitals or physician groups in contract negotiations or disputes, and understanding the myriad relationships and balances between payors and providers. Much of this had to do with the very fine balance of fair reimbursement, keeping the cost of health insurance as low as practicable and competitive issues. Prior to being with BCBSRI, he was a litigator specializing in commercial disputes and healthcare, and represented clients in ADR settings. This background makes him uniquely qualified to assist people facing serious disputes related to healthcare and reimbursement. His experience also includes negotiating contracts with hospitals, laboratories, physicians, pharmaceutical companies, and imaging companies.
Jim was involved in virtually every significant committee, commission or dispute, involving healthcare in RI from 2000-2011. Until January 1, 2012, he was the Chair of the Board of the Rhode Island Quality Institute (RIQI), a nationally recognized quality of care organization and the state designated Regional Health Information Organization. He is currently a Board member of HopeHealth, Inc., the southeastern New England-wide non-profit organization that is leading the effort of integrating hospice, palliative, and home care into ACOs and health insurer models.
After graduating from Cornell University and serving in the US Army with Vietnam "experience," Jim attended Boston University Law School where he was ranked second in his class and served as editor of the Law Review. He is admitted to practice in Maine, Rhode Island and Massachusetts.