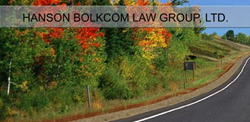 The philosophy of my firm is simple: We believe that everyone deserves an experienced, trained professional pursuing their interests, and that's what we aim to be. - Kent Hanson
Minneapolis, MN (PRWEB) October 28, 2013
After more than 30 years of experience in civil litigation, Kent Hanson, Senior Attorney and at the Hanson Bolkcom Law Group in Minneapolis has announced his membership with Mediation.com as part of its vast attorney-mediator network. This coincides with a stated desire to expand the ADR aspects of his practice.
"I focus on product liability, commercial and employment disputes, fields that have taught me a lot about mediation, arbitration, and the art of negotiation," Hanson said. "What I bring is over three decades of success dealing with these issues inside and outside court, with national experience. The philosophy of my firm is simple: We believe that everyone deserves an experienced, trained professional pursuing their interests, and that's what we aim to be. Mediation.com is the gold-standard for online mediation networks – it's where my clients are. So it's a perfect fit."
Hanson graduated magna cum laude from the University of Minnesota Law School in 1979 and has gone on to a truly national presence, being a current member of the bar in Minnesota, Wisconsin, Washington, California and Ohio. He is also a member of many United States District Courts and Courts of Appeals across the country. Throughout his practice, he has gained extensive trial experience litigating and mediating a variety of issues such as Civil, Commercial, Contract, Insurance, Labor, Personal Injury, Workers' Compensation and Workplace.