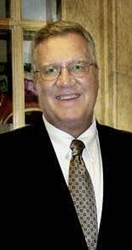 In the course of my career, I've worked with therapists, social workers and other professionals and learned everything there is to know about alternate dispute resolution. - Joseph Bluth
Mankato, MN (PRWEB) November 01, 2013
After practicing as an attorney who specializes in "high-conflict" cases for more than three decades, Joseph Bluth has focused on providing Alternative Dispute Resolution (ADR) services, which includes mediation, arbitration and both private and court appointment as a neutral. He is now one of the latest members to Mediation.com's vast attorney-mediator network.
"My whole career has centered on not just resolving disputes, but resolving them in ways that limit or eliminate stress, anxiety, and open conflict," Bluth said. "In the course of my career, I've worked with therapists, social workers and other professionals and learned everything there is to know about alternative dispute resolution. This leaves me in a unique position to offer assistance to the people who need it most."
Mr. Bluth's mediation services concentrate on serving as a neutral in divorce cases, custody cases, and other family law matters. He also handles ADR services in civil and administrative law cases involving discrimination, professional licenses, and real estate disputes, and assists families who have a parent or child coping with personal injury, wrongful death or tort claims.
Mr. Bluth is a qualified neutral, collaborative law neutral, and Social Early Neutral Evaluator (ENE) who finds creative ways that can better serve the mediation process and make it easier for families to engage in meaningful ADR. Using advanced technology and communications, and working with professionals from other fields, he aims to resolve difficult cases in a cost-effective manner. For example, he offers Skype-based sessions for families that cannot come physically to an office.
Combined with his advanced training in the various methods of ADR, Mr. Bluth has been selected for inclusion in the Best Lawyers in America, which has previously recognized him as one of Minnesota's Top 25 Family Lawyers. He has been named a "Super Lawyer" by Minnesota Super Lawyers publication and rating service every year since 2003. His law firm, High Conflict Mediation and Arbitration Services, serves clients throughout southern Minnesota and in the southwestern metro/Minnetonka Lake area of the Twin Cities.