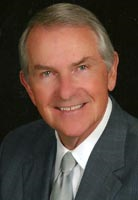 These students are going to serve our community going forward and it's important that I do my part in teaching them, not only to be excellent lawyers but as mediation advocates as well. - John Dewey Watson
Little Rock, AR (PRWEB) November 19, 2013
After nearly forty years practicing with the largest law firm in Arkansas, Little Rock attorney John Dewey Watson joined ADR, Inc. in order to practice mediation full time. Well-known not only as a highly experienced and innovative trial attorney and mediation specialist but also as a community leader, he has been invited to teach a three-hour mediation skills course at the University of Arkansas (UA) at Fayetteville as an adjunct professor.
"I'm incredibly excited," said Watson. "The class will be composed of second and third year law students – exactly the students who need some guidance in the art and science of mediation. I can apply my decades of experience by taking the practice scenarios directly from actual mediations I was engaged in and guide the students through them. It will be educational for me, as well, to see if young minds can surprise me! These students are going to serve our community going forward and it's important that I do my part in teaching them, not only to be excellent lawyers but as mediation advocates as well."
Regular course work during the school year has taught the students basic mediation skills such as how to conduct an interview, give an opening statement, invite party participation, conduct negotiations, identify interests, handle impasse, and arrange for a written settlement agreement. Students will also create videos of a mediation in which they serve as mediator, and will then conduct a self-critique of their performance.
Watson credentials include extensive training as a mediator and arbitrator from the American Arbitration Association and membership in the National Academy of Distinguished Neutrals. Throughout his career, he has mediated cases concerning medical malpractice, automobile accidents, premises liability, property disputes, commercial construction, residential construction, franchise rights, and domestic relations.