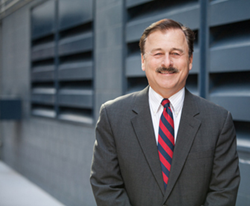 I use patience, perception, and persistence to settle challenging cases anytime from before the case is filed to right before the trial begins. —Monty A. McIntyre
San Diego, California (PRWEB) September 12, 2013
Mediation.com and leading mediation professional Monty A. McIntyre have joined forces to offer Mediation.com's customers even more choice and alternative dispute resolution (ADR) resources. This will help bring McIntyre's world-class mediation and arbitration skills to a wider audience while solidifying Mediation.com's position as the premier online source for all ADR needs.
Monty McIntyre is known in the mediation industry for his experience and expertise in Civil Mediation, Midnight Mediation, and Divorce and Family Law Mediation. "I am excited to be working with Mediation.com," said Monty McIntyre, Relentless Optimist®, mediator, arbitrator and motion referee. "Teaming up with Mediation.com will help me better serve individuals, families, and businesses to obtain swift resolutions of their disputes." He also added, "I use patience, perception, and persistence to settle challenging cases anytime from before the case is filed to right before the trial begins."
Tom Pronesti, Operations Manager of Mediation.com said that, "The partnership we have with Monty reflects our desire to collaborate with experienced and skilled mediators to help provide dependable ADR services to people all over the world."
Monty received his law degree from the University of San Diego School of Law in 1980. He has since been recognized as one of The Best Lawyers in America, a Super Lawyer, a Master in the Enright American Inn of Court, and he has won outstanding trial lawyer awards. Monty will be the2014 President of the San Diego Chapter of the American Board of Trial Advocates (ABOTA), and he served as the President of the San Diego County Bar Association in 2002. He has also served nationally in the House of Delegates of the American Bar Association and the National Conference of Bar Presidents. Monty resolves civil litigation disputes in business, contracts, class actions, employment, personal injury, medical malpractice, real property and other areas of civil litigation. He also helps couples avoid the cost and expense of family law litigation by mediating their own divorce.
To help civil trial lawyers, corporate counsel and others (business owners, HR professionals, risk managers, etc.) keep up with new California civil case law, every two weeks Mr. McIntyre publishes McIntyre's California Civil Law Update - organized succinct civil case summaries - on his website, http://www.montymcintyre.com. Jeffrey A. Joseph, Esq., former Associate Dean and General Counsel at Thomas Jefferson School of Law commented that, "For California civil practitioners having trouble keeping up on the latest cases, Monty's civil law update is must reading. Monty has a great command of the law and is able to summarize these cases succinctly and clearly."
About Monty A. McIntyre
Based in San Diego, California, Mr. McIntyre has extensive and current knowledge of California civil law. He has been a mediator and an arbitrator for the San Diego Superior Court and regularly publishes McIntyre's California Civil Law Update. Mr. McIntyre has more than 25 years experience as a mediator and arbitrator, and over 33 years as a civil trial lawyer representing both plaintiffs and defendants. In addition to his work as a mediator, arbitrator and referee Monty enjoys spending time with his family, golf, music, wine and travel.