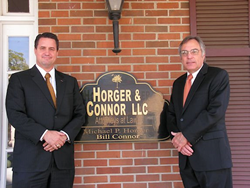 When my father and I founded this firm decades ago that was our firm belief – no matter your budget or how many hours we could bill you, you deserved everything we could offer in terms of legal services, advice, and support. - Michael Horger
Orangeburg, South Carolina (PRWEB) February 05, 2014
After building a reputation as the law firm that provides the depth, expertise, and resources of a large firm with the cost and friendly attitude of a small firm – a philosophy that has won him many adherents in the South Carolina legal world – noted attorney and mediation professional Michael Horger has announced his recent membership in Mediation.com as a way to offer even more value to his clients, both potential and existing.
"When my father and I founded this firm decades ago that was our firm belief – no matter your budget or how many hours we could bill you, you deserved everything we could offer in terms of legal services, advice, and support," said Horger. "That goes for mediation services as well – whether the issue is big or small, our clients deserve the best we can offer them."
Mr. Horger practices primarily in the insurance and corporate defense areas but he also handles most general business law matters. He has more than 25 years of experience in the courtroom and has successfully defended cases involving all aspects of personal injury and negligence law. He is admitted to practice before all state and federal courts in South Carolina, as well as the Fourth Circuit Court of Appeals and the Eleventh Circuit Court of Appeals.
A graduate of the University of South Carolina School of Law, Mr. Horger is a past president of the Orangeburg County Bar Association and is a member of the South Carolina Defense Trial Attorneys Association and the Defense Research Institute. He founded Horger and Connor in 1982 with his father, the late William A. Horger.