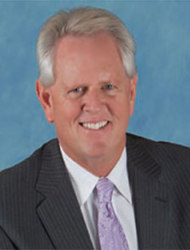 I strongly believe in an individual, highly-personalized approach to each dispute. I work directly with parties and counsel to determine the root of the dispute, identify interests, and establish goals for resolving the case. - Richard Williams
Redwood City, CA (PRWEB) December 06, 2013
Richard M. Williams has announced his membership to Mediation.com. An experienced mediator and trial lawyer with Gray•Duffy, LLP, a commercial litigation and insurance defense law firm with offices in Los Angeles and the Bay Area, he brings nearly 40 years of complex litigation and alternative dispute resolution experience to the table.
"I strongly believe in an individual, highly-personalized approach to each dispute," said Mr. Williams. "I work directly with parties and counsel to determine the root of the dispute, identify interests, and establish goals for resolving the case. Listening to what litigants really want, not just dollars, is what settles cases. Even large corporate litigants are still run by people, and identifying needs and satisfying them with real practical solutions, is the crux of successful ADR."
With more than 700 cases as a mediator and arbitrator, Mr. Williams brings a vast array of skills to the mediation market place. He serves on court mediation panels throughout Northern California, including San Francisco, Santa Clara and San Mateo counties and the First and Sixth District Courts of Appeal. His particular mediation experience spans most areas of civil litigation, including intellectual property, clergy and child abuse, serious personal injury, business and contract litigation, professional malpractice, real estate, discrimination and employment. Mr. Williams is also a neutral arbitrator for the American Arbitration Association and Kaiser Foundation Hospitals.
As a litigator with Gray•Duffy, LLP, Mr. Williams has tried more than 40 cases to verdict. He represents clients across the spectrum, including Fortune 500 companies, insurance companies, business services firms, major grocery chains, public entities and school districts, product manufacturers, hospitals and physicians, property management firms and funeral conglomerates.
Mr. Williams is a member of The Mediation Society in San Francisco and serves on the Neutral Panel for the Santa Clara County Bar Association as well as Kaiser Permanente. He was previously on the Board of Governors of the California Trial Lawyers Association (now the Consumer Attorneys of California), and has led trial advocacy seminars for continuing education courses (CEB, ALI and ADC), as well as instructed classes in law and the court system to local high school students.
A Martindale-Hubbell AV-rated attorney, Mr. Williams obtained his B.A. from Stanford University in 1971 and his J.D. from University of Pacific McGeorge School of Law in 1975. He completed his formal training in mediation at Pepperdine University in 2004.