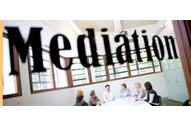 I've seen that when issues are resolved under less stressful conditions through the mediation process, the benefits almost always outweigh the financial, emotional, and other costs of going to trial. - Ron Storey
Dothan, AL (PRWEB) February 22, 2014
In his years as a respected trial attorney and Circuit Court Judge overseeing dozens of cases every year, Ron Storey saw firsthand the damage that litigation and the aggressive, stressful nature of trials can have on people. Launching his mediation practice in order to offer people an alternative, he recently announced his membership in the leading nationwide online mediation network, Mediation.com.
"I have practiced as an attorney for thirty-two years, and I served as a judge for over eight years," Storey said in explaining his decision to place more emphasis on mediation. "During those forty years, I have witnessed the stress and the uncertainty imposed upon individuals when their cases are tried in front of a judge or a jury. At the same time, I've seen that when these issues are resolved under less stressful conditions through the mediation process, the benefits almost always outweigh the financial, emotional, and other costs of going to trial. Joining Mediation.com is the best way I know to reach out to prospective clients who need help in avoiding the stress and expense of a trial."
A graduate of Auburn University and of Florida State University College of Law, Mr. Storey practiced as a civil and criminal attorney until being called to serve as a Circuit Court Judge in the 20th Judicial Circuit of Alabama from 1979 to 1987. Returning to private practice, he now concentrates on civil litigation, business law, wills and estates, contracts, real estate transactions, probate law, and mediation. He is registered in General Civil Mediation and in Domestic Relations Mediation on the Alabama State Court Mediator Roster.