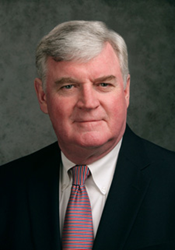 My practice is solely as an arbitrator, mediator and impartial neutral. I do represent individual clients, but I represent the process of dispute resolution through arbitration and mediation. - Sean J. Rogers
Leonardtown, MD (PRWEB) November 20, 2013
With more that thirty-eight years of successful practice in arbitration, mediation and alternate dispute resolution in widely varied sectors, including public, private, federal, commercial and civil, Sean J. Rogers, Esq. has announced he is associating his impartial neutral practice to Mediation.com, the online mediation network.
Rogers is a member of the National Academy of Arbitrators (NAA) which, in the United States and Canada, has a peer-rated and vetted membership numbering approximately 600. As regards mediation, he is a member of the National Academy of Neutrals which has an invited membership of experienced dispute resolution professionals. He is a member of many arbitration/mediation panels including: FMCS, NMB, DC PERB, DE PERB, AAA, ATU-MTA, NALC-USPS, NTEU-IRS, FINRA, BBB, DC ACAB and more. He is the NAA DC Coordinator. He is former President, Treasurer and current Vice-President of the DC Chapter Society of Federal Labor and Employee Relations Professionals and serves on SFLERP's National Executive Board. He is a member of the DC and MD bars, and the Southern Maryland Inn of Court.
"My practice is solely as an arbitrator, mediator and impartial neutral," said Rogers. "I do represent individual clients, but I represent the process of dispute resolution through arbitration and mediation. My clients are other lawyers who represent employers, unions, businesses, consumers, and civil or commercial plaintiffs and defendants, seeking timely, economical resolution of their disputes."
Rogers' experience includes dispute resolution, not only as a chief-legal officer and negotiator for national labor organizations, but also labor relations director and negotiator for a major county government and large federal agency. Before his impartial neutral practice, he served as National Director of Labor Relations, Internal Revenue Service; Director of Labor, Montgomery County, MD where he was responsible for labor/employee relations, training, compensation and benefits programs for more than 7,000 employees. He was National Counsel and General Counsel to two national labor unions. He served as the Senior Counsel/Senior Hearing Officer to the National Mediation Board (railroad and airline labor relations).
His neutral experience encompasses labor and employment cases in all sectors. He has been appointed to many permanent panels and receives many direct appointments. He has mediated and arbitrated disputes for Federal, State, and county and municipal governments, airlines, railroads, public schools, police and fire departments. He has extensive experience in dispute resolution in commercial and civil litigation. In the commercial sector he has mediated-arbitrated disputes regarding banking and credit, mergers, partnership dissolutions, executive successions and bankruptcies involving millions of dollars. He has resolved civil disputes in cases involving personal injury, medical malpractice, products liability (automobile) and other diverse litigations which have been referred by attorneys or courts for alternate dispute resolution.
Rogers graduated from Georgetown University with a BA in English and Psychology; received a Masters in Police Science from American University; and earned his law degree at Georgetown University Law Center. Prior to his legal practice, Rogers served as a police officer with the Metropolitan Police Department, Washington, DC.