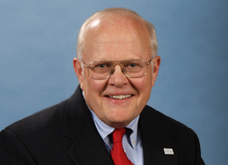 Mediation.com puts me into direct contact with the people who need my services the most. - Sidney Eagles
Raleigh, NC (PRWEB) November 01, 2013
After two decades on the bench as a judge in the North Carolina Court of Appeals and the last decade once again in private practice, Sidney Eagles has joined the nation's leading mediation network, Mediation.com, in an effort to expand the alternate dispute resolution (ADR) portion of his practice.
"Mediation.com puts me into direct contact with the people who need my services the most," Judge Eagles said. "This is where I can find the clients I want to connect with – people who need the benefit of my extensive experience –as a lawyer, an ADR professional, a judge, and a government counsel. "
Judge Eagles is a certified mediator by the North Carolina Dispute Resolution Commission and on the American Arbitration Association's list of Arbitrators. Prior to his time on the bench, Judge Eagles was a Colonel in the Air Force Reserve, where he was awarded the Legion of Merit. He also served as Counsel to the Speaker of the House and as a Special Deputy Attorney General. As a legal scholar, he has served as an adjunct professor in Campbell University's School of Law and as a lecturer at numerous legal seminars.
In 2011, Judge Eagles was selected by his peers as Raleigh's Best Lawyers' Alternative Dispute Resolution Lawyer of the Year. He is also listed on The Best Lawyers of America in the fields of Appellate Law, Alternative Dispute Resolution and Arbitration.
As one of the attorneys at Smith Moore Leatherwood LLP in Raleigh, North Carolina, Judge Eagles is known for his commitment to provide the highest quality legal services at a value that is fair and reasonable for his clients. "We fulfill this commitment by establishing long lasting relationships with our clients based on trust, communication, and efficiency," Judge Eagles added.