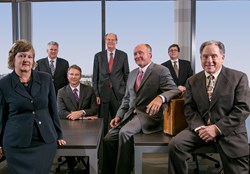 "You won't have to spend time explaining the law of your case to our mediators . . .You can get right down to the business of resolving your matter"—Doug Sohn, President
San Diego, CA (PRWEB) October 07, 2013
There are many mediation panels in the Southern California area, and even a few who feature world-class mediators. Subject Matter Mediation Services distinguishes itself from the others with a unique approach. "It's right there in the name," says Doug Sohn, President of SMMS and one of their mediators. "We focus on the subject matter of your case, and we provide you with a mediator who has deep experience in that subject matter."
Why is that important? "You won't have to spend time explaining the law of your case to our mediators," Sohn explains. "You can get right down to the business of resolving your matter."
With beautiful offices in La Jolla, SMMS promises clients a first-class experience, providing food and beverages throughout the session, in a relaxed setting that promotes the mediation process.
"My job is to make sure that your mediation goes smoothly, from finding a date that works for everybody, to getting everyone to the mediation rooms and throughout the process," explains Cheri Sohn,Vice-President and General Manager. "I'll be there on the day of the mediation to greet you personally, and I'll be available for the entire session if you need anything."
In addition to Doug Sohn, the mediators are Elisabeth Epel, Kevin Forrester, Sunny McGahey, Marc Geffen, Jim Greer, Allen Gruber and Steve Oggel .
The SMMS mediation panel has experts in each of nine separate subject matters: Business Litigation, Intellectual Property, Injury Law, Probate Litigation, Lemon Law and Other Auto, Employment Law, Commercial Litigation, Real Estate Law, Construction Law, and Antitrust and Securities Litigation. The mediators have additional qualifications beyond their litigation experience. The Real Estate Law experts (Forrester, Gruber and Greer), for example, are almost all licensed real estate brokers, and the Construction Law expert (Greer) is a licensed general contractor.
SMMS is currently featured in the October Issue of the Attorney Journal.
You can meet the mediators of SMMS at the upcoming Annual Meeting of the State Bar of California, October 10 through 13. SMMS will be in the Exhibit Hall, Space 510.
To find out more about Subject Matter Mediation Services and its mediators, visit the SMMS website: http://www.subjectmattermediation.com.