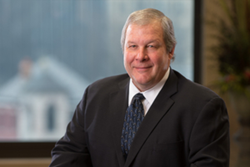 I believe I will be an effective mediator and arbitrator because I listen to people and try to understand what motivates them. - William Trumpeter
Chattanooga, TN (PRWEB) October 26, 2013
After acquiring decades of experience on the corporate side representing the management in labor disputes and other business-related matters, William Trumpeter has announced his membership in Mediation.com, the nation's fastest-growing mediation network.
"I believe I will be an effective mediator and arbitrator because I listen to people and try to understand what motivates them," Bill said. "I believe in treating everyone with dignity and respect. As an advocate, I believe I represented my clients zealously, but at the same time, made every effort to treat my opponents in an honest and professional manner. I believe my reputation for honesty and integrity among my peers will serve me well in the ADR realm."
Bill has successfully handled hundreds of labor arbitrations covering all types of issues. He has also successfully acted as a private mediator in several employment actions. During his career, Bill engaged in traditional labor law, handled equal employment opportunity litigation, and represented clients faced with FLSA matters. He has practiced before administrative agencies and in state and federal courts. He represented national, regional, and local clients in labor relations matters, labor negotiations, arbitrations, and mediations. His wide variety of satisfied clients includes businesses and individuals in the manufacturing, construction, health care, banking, restaurant, and service industries.
Since his graduation from the University of Toledo College of Law in 1975, Bill has been in practice for 37 years. In that span of time, he has been named one of The Best Lawyers in America in Labor and Employment Law for the last twenty years. He has finished Federal Mediation and Conciliation Service (FMCS) Training on Becoming an Arbitrator, Harvard Law Program on Interest Based Bargaining, and is listed as a Rule 31 General Civil Mediator by Tennessee Supreme Court.