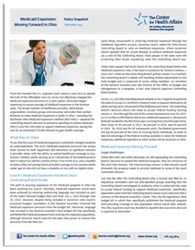 Cleveland, OH (PRWEB) December 19, 2013
To say that Medicaid expansion moving forward in Ohio was at the top of healthcare advocates' holiday wish lists would be an understatement. From the moment the U.S. Supreme Court voted in June 2012 to uphold the bulk of the Affordable Care Act (ACA), but effectively changed the Medicaid expansion provision to a state option, advocates began organizing to ensure passage of Medicaid expansion in the Buckeye state.
As the holiday season gets into full swing, many healthcare advocates feel fortunate that their greatest wish has already been fulfilled – an expansion of the Medicaid program. The broad coalition of healthcare providers, faith-based organizations, business groups and consumer advocates that worked tirelessly to make Medicaid expansion a reality in Ohio – including the Northeast Ohio Medicaid Expansion Coalition (NEO-MEC) – applaud the Controlling Board's decision to authorize spending to extend Medicaid. Ohio is now the 25th state to support Medicaid expansion, paving the way for an estimated 275,000 Ohioans to gain health coverage.
December's Policy Snapshot, Medicaid Expansion Moving Forward in Ohio: Controlling Board Decision Paves Way for 67,000 Northeast Ohioans to Gain Health Coverage, details how the Controlling Board's action made Medicaid expansion a reality in Ohio. Healthcare advocates, including hospitals in Northeast Ohio, can rest assured that Ohio recognizes the opportunity this generous federal financing creates to meet the healthcare needs of our fellow Ohioans. The Center for Health Affairs will continue to work collaboratively with NEO-MEC to ensure Medicaid expansion remains a reality in Ohio.
To learn more about how Medicaid expansion is moving forward in Ohio, contact Tony Gutowski at 216.255.3614 or via email or Deanna Moore at 216.255.3614 or via email.
A full list of The Center's publications can be found on the website along with a wide range of resources covering a variety of health policy issues.
###
The Center for Health Affairs is the leading advocate for Northeast Ohio hospitals, serving those organizations and others through a variety of advocacy and business management services. The Center also works to inform the public about issues that affect the delivery of health care. Formed by a visionary group of hospital leaders 96 years ago, The Center continues to operate on the principle that by working together hospitals can ensure the availability and accessibility of health care services. For more on The Center, go to http://www.chanet.org.