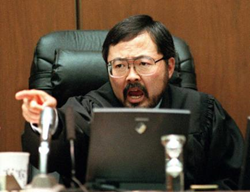 The uncomfortable aspect of Medicaid long-term care is that individuals are nearly expected to go broke and become destitute before they can enter a nursing home. This is known as the spend-down rule.
Boston, MA (PRWEB) November 18, 2014
The Buckeye State is hot water over its interpretation of federal rules governing the use of Medicaid funds. In 2013, a group of elderly residents of Ohio sued their state's Department of Job and Family Services for what they consider a wrongful denial of Medicaid benefits. At the heart of the complaint there are issues related to long.-term care and the right to enjoy income from insurance annuities; the case is Carole L. Hughes and Harry Hughes v. John B. McCarthy, Medicaid Director, in the United States Court of Appeals for the Sixth Circuit, No. 12-3765 (1, PDF).
This case has drawn plenty of attention due to its legal and financial implications. Essentially, the case has escalated to the point of a federal judge warning state regulators that she would consider issuing an order to drop Ohio from Medicaid enrollment altogether, leaving the Buckeye State without federal funds to provide medical care for its elderly residents (2).
What would drive the federal government to consider imposing such a harsh injunction? As it happens, Medicaid administrators in Ohio believe that an elderly patient in a nursing home is not entitled to long-term care benefits as long as he or she has a relationship with someone who has purchased an annuity (3). Essentially, the State of Ohio has penalized elderly couples by denying them long-term care benefits because a spouse or close relative has purchased a Medicaid-compliant insurance annuity.
Similar cases have been filed in federal courtrooms across Ohio, and U.S. District Judge Susan Dlott has actually warned state officials that she could hold them in contempt for failing to follow federal law (3). The latest volley of federal lawsuits filed against Medicaid administrators in Ohio involve three elderly women whose husbands tapped into their retirement accounts to purchase annuities. State Medicaid investigators claim that such financial purchases are illegal (4).
"This looks to be a case of state officials who are overzealous in their protection of Medicaid funds, and it is a testament to just how cash-strapped the system seems to be when it comes to long-term care," explains Rocco Beatrice, Managing Director of Estate Street Partners, LLC. Mr. Beatrice's firm is dedicated to asset protection and estate planning: "We are seeing more clients who are concerned about Medicaid planning and other retirement planning issues such as Medicaid. Some states tend to be more draconian than others in their administration of Medicaid program, and Ohio seems to push the envelope in this regard. Nonetheless, this case is shining an important light on Medicaid planning."
Elderly residents of Ohio must first spend down their monetary holdings to $1,500 and receive no more than $45 in monthly income before Medicaid's long-term care benefits kick in (4). This is just for senior citizens who are single; married couples, like the plaintiffs in the cases mentioned above, must split their assets in a way that the healthy spouse retains no more than $117,240, but the spouse in the nursing home must not have more than $1,500 or monthly income higher than $45.
"The uncomfortable aspect of Medicaid long-term care is that individuals are nearly expected to go broke and become destitute before they can enter a nursing home. This is known as the spend-down rule," explains Mr. Beatrice. "As expected, there is a lot of anxiety associated with this Medicaid spend-down. Some seniors find relief in the form of Medicaid-compliant insurance annuities that can give them some income even when they are in a nursing home, but it seems that Ohio does not like these financial instruments. We have to remember that we live in an age when bills do not stop even if you are in a nursing home. We can no longer rely on the young to care for the elderly; they have their own problems and challenges. That Ohio wants their elderly to become completely destitute before entering a Medicaid nursing home is certainly harsh."
Going back to the issue of Medicaid planning and the required spend-down, Mr. Beatrice concluded: "Our most important advise to clients on this issue is that they need to plan early, at least five years in advance. This is not easy since no one knows what the future holds or when they would need to check into a nursing home, but the key is to deposit assets into a legal instrument such as our UltraTrust® with plenty of anticipation. The Medicaid spend-down provisions are certainly restrictive, but we can help our clients manage this aspect of life before it becomes an issue. Proper planning is all that is required to qualify for Medicaid benefits and still be able to enjoy the assets you worked so hard to accumulate in your younger years."
About Estate Street Partners (UltraTrust.com):
For 30 years, Estate Street Partners has been helping clients protect assets from divorce and frivolous lawsuits while eliminating estate taxes and probate as well as ensuring superior Medicaid asset protection for both parents and children with their Premium UltraTrust® Irrevocable Trust. Call (888) 938-5872 to learn more.
#
1. U.S. Court of Appeals for the Sixth District, October 25, 2013 (ca6.uscourts.gov/opinions.pdf/13a0308p-06.pdf)
2. Certified Medicaid Planner Governing Board, October 7, 2014 (cmpboard.org/federal-judge-flexes-muscle-help-families-using-medicaid-annuities/)
3. Columbus Dispatch, October 6, 2014 (dispatch.com/content/stories/local/2014/10/06/ohio-under-fire-over-annuities.html)
4. Akron Legal News, October 28, 2014 (akronlegalnews.com/editorial/11441)