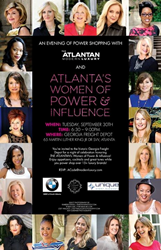 Atlanta, GA (PRWEB) August 31, 2015
Sculpted Contours Luxury Medical Aesthetics proudly announces that Kathy King, Owner/Managing Director was selected as one of Atlanta's Women of Power and Influence by Modern Luxury's The Atlantan Magazine.
This award for the Sculpted Contours Founder is a special recognition for the business as well as Kathy King. Her idea and vision to bring to Atlanta a true luxury experience in a medical aesthetic center has come to life at Sculpted Contours. "With over 20 years working in the medical field, her compassion, caring and commitment to her clients is what makes us the best at what we do," says Stephanie McKennon of Sculpted Contours. "We work with each person individually helping them look their best," says King, "because there is no one treatment that is perfect for each individual."
Sculpted Contours Luxury Medical Aesthetics was recognized in January 2015 as Best of the City for Body Sculpting by The Atlantan. Now just 9 months later, their director and founder is awarded this top recognition as one of Atlanta's powerhouse female businesswomen. McKennon adds, "Everyone here is excited for her accomplishment and for being publicly recognized for the things we see her doing every day to make this business the best it can be."
"Everything we do is with our clients in mind. Sculpted Contours provides a true luxury niche treatment center for medical aesthetics in Buckhead. There is nothing else like this place in Atlanta. Our staff are all top quality and receive on going training on new protocols and treatment options to make sure we are the best at what we do. We take being the best seriously and make sure our clients understand that. They put their confidence in us to make sure they get the very best results and we deliver every single time," says King.
Sculpted Contours Luxury Medical Aesthetics is a focused body and facial sculpting center. "Our goal is not to do everything for you, but to do what we do better than anyone else. We offer non-invasive solutions for fat reduction through CoolSculpting, skin tightening and lifting through Ultherapy, skin tightening and cellulite reduction through Pelleve' and PelleFirm as well as some of the best skin care products for aging photo-damaged skin through Environ. We've chosen the best products and best technology so our clients can be assured of the results they will get," says King.
Sculpted Contours is also a Premiere CoolSculpting provider, which is one of the highest designations offered for CoolSculpting practices. It means they do more CoolSculpting than most other practices across the United States. "Our experience and luxury treatment center have made us one of the top practices providing CoolSculpting in Atlanta and across the United States," adds King.
"For the company and Kathy to both be recognized with such honorable awards the first year we are open is an incredible accomplishment. It just shows how much Atlanta really wanted and needed a luxury aesthetic center. Sculpted Contours is proud to be the one to meet the demands of a special clientele that expect only the best. After such a great first year in business, we can't wait to see what next year holds. Atlanta is getting to know who we are and coming back for more.
We are excited to be part of the new Buckhead with all the great shopping, restaurants and personal services focused on our luxury demanding city residents and visitors. Sculpted Contours fits right in, our motto is 'where luxury and aesthetics meet'. We know all our clients from this past year will join us in congratulating Kathy on her award," added McKennon.
For more information on Sculpted Contours Luxury Medical Aesthetics, visit their website at http://www.sculptedcontours.com.