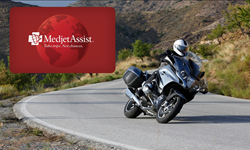 Air medical transfer services from Medjet can put your mind at ease when you ride in unfamiliar areas.
Birmingham, AL (PRWEB) April 29, 2015
Members of the American Motorcyclist Association will now have the option to purchase medical air transport protection for less through a new member benefit offered by MedjetAssist. The air medical transport membership program provides protection when traveling domestically or abroad.
"One of motorcycling's great joys is discovering parts unknown, but mishaps happen and when they happen far from home, it can be enormously inconvenient, stressful and expensive," said AMA Chief Operations Officer Jeff Massey. "Air medical transfer services from Medjet can put your mind at ease when you ride in unfamiliar areas."
Medjet provides medical repatriation services for members who may become hospitalized while traveling more than 150 miles from their home. The membership covers both domestic and international travel and is not limited to travel on a motorcycle. Should a member become hospitalized, Medjet will provide medical air transport to the member's hospital of choice at no additional cost beyond its membership fee.
"AMA members have always recognized that motorcycles are great tools for exploration," said Roy Berger, President and CEO of Medjet. "We're pleased to provide these savings to members who seek roads and trails less traveled so they can focus on the ride, knowing that help will come just when they need it most."
AMA members under age 75 can take advantage of a 16 percent discount off Medjet's regular annual rate. To sign up, visit http://www.MedjetAMA.com or call Medjet at (800) 527-7478 and reference the American Motorcyclist Association membership. Medjet offers short-term and multi-year membership options in addition to Motorcycle Transfer Protection.
For more information about all the benefits of AMA membership, including free roadside assistance to members who sign up for automatic renewal, see http://www.americanmotorcyclist.com.
About MedjetAssist
MedjetAssist is the premier global air-medical transport membership program for travelers. If a member is hospitalized more than 150 miles from home—virtually anywhere in the world—MedjetAssist reviews his or her condition with the attending medical staff and arranges medical transportation to a hospital of their choice in their home country. MedjetAssist has its corporate headquarters in Birmingham, Ala. For more information visit: https://medjetassist.com/.
###