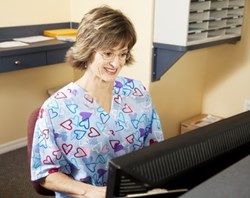 It's a specialized field that requires knowledge of medical terms, anatomy and a myriad of state, federal and insurance company rules.
Denville, NJ (PRWEB) November 16, 2013
"An EMR is essential in today's digital world, but no clinician should underestimate the effect a medical biller will have on a practice when they have the power of an EMR at their fingertips," said Chhoda. "Practitioners benefit through fewer denials and rejections that ties up funds and keeps them from being deposited in the practice's account."
According to Chhoda, a certified medical biller is well versed in ICD and CPT codes and works closely with clinicians to ensure the information for each patient encounter is accurate, that each service and treatment is accounted for, and reimbursement claims are submitted according to the requirements of each payer. It's a specialized field that requires knowledge of medical terms, anatomy and a myriad of state, federal and insurance company rules.
Chhoda noted that clinicians work with a wide variety of insurance carriers and government healthcare plans, and medical billing people are tasked with submitting clean claims on behalf of the practitioner that are approved for reimbursement. Billers monitor each claim and track patient balances.
The following are the latest accomplishments that certified billers can do with the power of an EMR system:

Authenticate patient insurance coverage and eligibility;
Recognize potential problems with claims and fix them before they're submitted;
Transfer claims electronically, whether as an individual or batch, to clearinghouses in real time and monitor the status of each claim;
Manage all aspects of reimbursements, claims and balances owed in a single location.
Chhoda added that claims that are reviewed carefully mean fewer denials and rejections, resulting in reimbursements that are paid quicker, sometimes in as little as ten days. His new information amply demonstrates the impact a medical biller has on the profitability of a physical therapy practice. Billers that have access to the capabilities and functionalities of an EMR submit more claims, do it quicker, and collect a practitioner's fees in record time.
Chhoda's office can be reached by phone at 201-535-4475. For more information, visit the website at http://www.emrnews.com.
About Nitin Chhoda
Nitin Chhoda PT, DPT is a licensed physical therapist, a certified strength and conditioning specialist and an entrepreneur. He is the author of "Physical Therapy Marketing For The New Economy" and "Marketing for Physical Therapy Clinics" and is a prolific speaker, writer and creator of products and systems to streamline medical billing and coding, electronic medical records, health care practice management and marketing to increase referrals. He has been featured in numerous industry magazines, major radio and broadcast media, and is the founder of Referral Ignition training systems and the annual Private Practice Summit. Chhoda speaks extensively throughout the U.S., Canada and Asia. He is also the creator of the Therapy Newsletter and Clinical Contact, both web-based services to help private practices improve communication with patients, delivery better quality of care and boost patient retention.