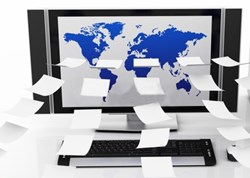 An EMR assists billers through electronic submissions and identifying potential problems before the claim is sent.
Denville, NJ (PRWEB) November 12, 2013
"Clearinghouses act much like a traffic director to speed claims to the correct payer. It's up to the clinician and the billing specialist to tell the clearinghouse where to direct the claim, and the clearinghouse maintains a report on the lifecycle of each submission," said Chhoda.
He added that ensuring that each claim has the correct patient information, insurance data, ICD and CPT codes and that all the information matches will reduce the number of denials and rejections. An EMR assists billers through electronic submissions and identifying potential problems before the claim is sent. Chhoda noted that clearinghouses facilitate the reimbursement process and completion of the revenue cycle in a number of ways.

Provides HIPAA compliant transmissions.
Supports electronic claim submissions that reduces reimbursement turnarounds to 10 days or less;
Claims can be sent as a batch instead of individually with the help of integrated physical therapy software and sent directly to the correct healthcare insurance provider;
Errors and inconsistencies can be fixed in days or less that results to fewer rejected claims;
Offers a single location where billers can manage virtually all electronic claims;
Consolidates claim submission points for multiple insurance providers;
Generates detailed reports on each claim submission;
The need for clearinghouses and their unique services becomes more evident as there are more than 4,000 healthcare insurance carriers and millions of healthcare providers present in the health industry. They eliminate the need for copious amounts of paper claims passing through the Postal Service that can take a week or more to reach their destination.
Clearinghouses are at its best when they are integrated with the EMR technology which can verify client insurance eligibility prior to treatment and the ability to correct claim errors online. One-on-one support or training for billing experts should a problem arise is also essential.
These clearinghouses provide a variety of benefits, from electronic claim submissions and accelerated claim turnarounds to HIPAA complaint transmissions. Chhoda's new insights provide clinicians with essential and compelling information that practitioners can use to reduce denial rates and boost revenues.
Chhoda's office can be reached by phone at 201-535-4475. For more information, visit the website at http://www.emrnews.com.
About Nitin Chhoda
Nitin Chhoda PT, DPT is a licensed physical therapist, a certified strength and conditioning specialist and an entrepreneur. He is the author of "Physical Therapy Marketing For The New Economy" and "Marketing for Physical Therapy Clinics" and is a prolific speaker, writer and creator of products and systems to streamline medical billing and coding, electronic medical records, health care practice management and marketing to increase referrals. He has been featured in numerous industry magazines, major radio and broadcast media, and is the founder of Referral Ignition training systems and the annual Private Practice Summit. Chhoda speaks extensively throughout the U.S., Canada and Asia. He is also the creator of the Therapy Newsletter and Clinical Contact, both web-based services to help private practices improve communication with patients, delivery better quality of care and boost patient retention.