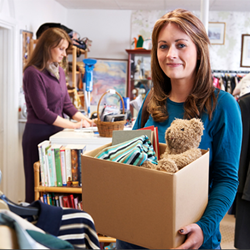 One in ten people in our community struggles with chronic or acute kidney disease, and we're working with American Kidney Services to make sure these residents receive the support they need
Duluth, GA (PRWEB) August 11, 2016
The Borror Agency, a family managed insurance and financial planning firm with offices serving northern Georgia and the Atlanta metropolitan area, is joining local nonprofit American Kidney Services for a charity event to provide support to local residents struggling with kidney disease.
Headquartered in Atlanta, American Kidney Services is a nonprofit organization that collects resources, clothes, and household goods from local residents, sells them to thrift stores, and sends all proceeds to the American Kidney Fund, one of the top three charities in the nation. All retrievals of donated goods are free and tax receipts for donations are provided on pickup.
"One in ten people in our community struggles with chronic or acute kidney disease, and we're working with American Kidney Services to make sure these residents receive the support they need," says Tonya Borror, founder and director of the Borror Agency.
Reaching out to families, business owners, and community leaders in the Atlanta area, Borror and her team have constructed an online social media portfolio and are utilizing an email update system to share information on the charity event. As well, the team is drafting a full page article featuring American Kidney Services for publication in the firm's online magazine "Our Hometown": http://www.theborroragency.com/Our-Hometown-Magazine_39.
Several Atlanta-area charitable organizations and nonprofit foundations have received direct assistance from the Borror Agency over the last few months. As part of a permanent charity involvement program called "Agents of Change," Borror and her team will be selecting and supporting another local charity every other month.
Those who would like to join the Borror Agency for the American Kidney Services charity event are asked to visit this page and make an effort to support the cause: http://www.theborroragency.com/Providing-Relief-to-People-with-Kidney-Disease_16_community_cause. Those interested in finding out more about the other Atlanta-based charities and nonprofits supported by the Borror Agency in the past can find a full listing of the firm's previous Community Causes here: http://www.theborroragency.com/community-cause.
About The Borror Agency
The Borror Agency provides professional and dedicated insurance services not only to North Atlanta, but the entire State of Georgia. The Borror Agency specializes in assisting families with their home insurance, auto insurance, life insurance and more. As a service-oriented insurance agency, the Borror team treats clients like family, and strives to give personal attention and professional advice to help clients protect their families and their assets. Join with over 900 other families in Georgia who look to the Borror Agency for assistance with all their insurance and financial planning needs. To reach a helpful representative for the Borror Agency, visit http://www.theborroragency.com/ or call (678) 383-1998.