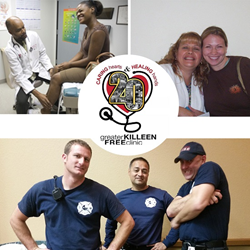 The Killeen Free Clinic is one of the only sources of effective medical service available to many low income families in our community
Killeen, TX (PRWEB) February 26, 2016
Michael Keefe Agency, a Texas-based insurance firm with offices serving Bell County and the surrounding communities, is announcing a cooperative charity drive with the Greater Killeen Free Clinic in an effort to ensure low income residents in the region have access to medical services.
The stated mission of the Greater Killeen Free Clinic is to (1) offer medical services centered on comprehensive health management, (2) seek partnerships with innovative complementary providers, and (3) advocate for residents who lack access to complete health care.
"The Killeen Free Clinic is one of the only sources of effective medical service available to many low income families in our community," explains Michael Keefe, founder and manager of the Michael Keefe Agency. "This charity effort aims to ensure that the Clinic is fully funded going forward."
To this end, Keefe and his team are establishing an online social media presence and launching an email awareness campaign to reach like-minded families and community leaders in the area. As well, the Keefe team will produce a full page article detailing the charity drive in an upcoming edition of "Our Hometown," the firm's monthly online magazine: http://michaelkeefeagency.com/Our-Hometown-Magazine_46.
The Michael Keefe Agency has also announced that they will be working with at least one new charity every other month as part of a permanent community involvement project.
Those who want to join the Michael Keefe Agency during the Greater Killeen Free Clinic charity effort are invited to make a personal contribution to the cause from this page: http://michaelkeefeagency.com/Providing-Health-For-Our-Community_16_community_cause. Those who are interested in learning more about the other Texas charities supported by the Michael Keefe Agency can review the firm's Community Causes listing here: http://michaelkeefeagency.com/community-cause.
About the Michael Keefe Agency
The consistent goal of the Michael Keefe Agency is to protect the assets earned by clients, today and into the future. The Michael Keefe team provides no-nonsense advice and options, and isn't shy about having the tough conversations necessary to protect and prepare clients for the uncertainties of life. The Keefe Insurance team not only helps protect the things that are most important to clients, but works with clients to build a strategy to achieve their financial goals. To reach a helpful and knowledgeable expert at the Michael Keefe Agency, browse to http://michaelkeefeagency.com/ or call (254) 526-7123.