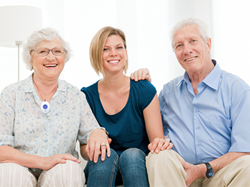 If one station has to go offline, the other system would immediately provide emergency coverage to the needful person. The emergency centers are CSAA Five Diamond Certified and they have to undergo rigorous certification process annually
Los Angeles, CA (PRWEB) August 21, 2014
Medical Alert Systems, http://www.medicalalert-systems.com/, a website that features in-depth information and reviews of some of the most popular medical alert devices including Medical Guardian and many others, is pleased to announce that it is now offering special deals and discounts on many of the systems. For seniors who are on a fixed income but would like to purchase some type of medical device, this announcement comes as very welcome news.
As a company spokesperson for the medical alert systems reviews website explained, the founders of Medical Alert Systems have negotiated special deals with medical alert companies, which allow visitors to the site to get these helpful devices at highly discounted rates.
While many elderly people would like to purchase some type of medical alert device, they may not be sure which one is best. This is where Medical Alert Systems can help—by offering unbiased and helpful reviews and descriptions of many medical alert devices and then offering them at discounted rates; it can help provide seniors with priceless peace of mind—all at a reduced cost.
For example, one of the devices that is reviewed on the website is called Medical Guardian. As the review notes, the company is well-known for providing outstanding customer service, and over the years the device has helped many seniors who were suffering from a severe medical emergency. In addition to being easy to install and use, the review notes that Medical Guardian does not require people to sign long-term contracts, and the company offers 24/7 support.
In addition, the review noted, Medical Guardian features a large "emergency" button on the base unit that also has Braille letters on it; this is a key advantage for seniors who are visually impaired. The base unit will also help to connect people who are suffering from a medical emergency with the Emergency Monitoring System, where medical professionals who are trained in taking emergency calls will have access to the person's medical background, and get him or her to the preferred hospital as soon as possible.
Bay Alarm Medical is another device that is reviewed on Medical Alert Systems.
"They offer fair price for their devices," the review noted, adding that its emergency call center works round the clock.
"If one station has to go offline, the other system would immediately provide emergency coverage to the needful person. The emergency centers are CSAA Five Diamond Certified and they have to undergo rigorous certification process annually."
LifeFone is another medical alert system that earns a positive review on the site. The company has been in business for around 35 years, and it prides itself on offering top-quality and reliable devices. In addition, LifeFone does not require an activation fee, and the system even offers an emergency care plan that is customized to the customer's needs.
Anybody who would like to learn more about Medical Alert Systems is welcome to visit the website; there, they can read the helpful reviews of the various devices.
About Medical Alert Systems:
Medical Alert Systems offers insight about popular medical alert devices which will help seniors and elderly people to acquire the best suited product according to their requirements. The founders of the website have negotiated special deals with medical alert companies so that visitors from the website get these devices for highly discounted rates. The site features detailed descriptions , including features, pros and cons and other important information about the popular medical alert devices that can help people to select the right one according to their needs. For more information, please visit http://www.medicalalert-systems.com/