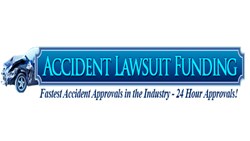 We are committed to providing financial relief to our clients in the midst of Medical Malpractice and Wrongful Death Lawsuits
Fairfield, NJ (PRWEB) January 24, 2014
Accident Lawsuit Funding has announced that they are boosting their turnarounds and cash advances for Medical Malpractice and Wrongful Death Lawsuits. Surprisingly, there are over 100,000 of these Lawsuits each year in the U.S. and the reason for Accident Lawsuit Funding's quick additional funding for their clients is that more often than not Doctors, Hospitals, Surgeons, and other medical personal seldom take responsibility for their malpractice and negligence, which often puts plaintiffs in quite a bind. http://accidentlawsuitfunding.com/medical-malpractice-accident-lawsuit-funding
Chris Janish, CEO of Accident Lawsuit Funding, commented on the need for additional and swift funding for clients stuck in these lawsuits, "We are committed to providing financial relief to our clients in the midst of Medical Malpractice and Wrongful Death Lawsuits. Our staff is pulling double duty to ensure the fastest turnarounds in the industry because high-powered legal teams that represent hospitals and surgeons may delay the lawsuits immensely and tie up the plaintiffs in court, leaving the plaintiffs without any funds needed to handle medical and living expenses. Our clients can rest assured, knowing that they will have the cash they need to get them through this endeavor that was no fault of their own." http://accidentlawsuitfunding.com/wrongful-death-accident-funding
Accident Lawsuit Funding feels confident going into this campaign as they already seen much success funding their clients for DePuy and Stryker Hip Revisions Lawsuits, Avandia Lawsuits, Transvaginal Mesh or Bladder Sling Corrective Surgeries, Yaz or Yasmin Birth control Pill, and Ocella or NuvaRing Birth Control Pill Lawsuits. This experience combined with Accident Lawsuit Funding's increased staff to handle incoming applications and inquires has Accident Lawsuit Funding's marketing manager, Route 72, feeling confident as well.
Founder and CEO of Route 72 Systems, Jim Alamia, states: "We are pleased to see Accident Lawsuit Funding stepping up for their clients. These types of lawsuits are a huge burden on the clients and their families and the lengthy legal process doesn't make things any easier. We are impressed by Accident Lawsuit Funding's swift turnarounds and have no doubts that they will continue to have a successful New Year."
If you are in need of pre-settlement funding on your accident lawsuit, apply today to: http://accidentlawsuitfunding.com or call the company's toll-free hotline at 877-571-0405 where live agents can take an application over the phone.