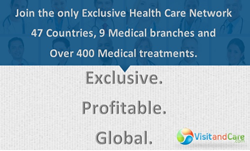 We are very pleased to be partnering with VisitandCare.com and implementing such a powerful system like ClinicCRM.
New York, NY (PRWEB) September 02, 2014
The exclusive ClinicCRM patient management software only available through VisitandCare.com, was designed to help doctors manage foreign patient flow, enable prompt response and smarter follow-up practices to boost patient conversion rates and clink revenue. Since its launch in 2012, medical providers have reported a 60 percent increase in sales revenue and a 70 percent increase in conversion rates after implementing the one-of-a-kind CRM software in their own healthcare practices.
With its ease of use, the CRM software was specifically designed to increase conversion rates and provides precise tools for clinical management and patient coordination. Prior to 2012, VisitandCare.com observed poor lead generation productiveness across the medical tourism industry — and discovered an extensive gap in the patient lead management processes inside the offices of their partnered medical providers.
"Our concentrated demand for lead generation, along with our strong presence in the medical industry, has given us the unique opportunity to deliver solid solutions for our partnered healthcare providers — in creating the ClinicCRM Software," stated Fatih Ozturk, Project Director at VisitandCare.com.
The Need for Management Software
The ClinicCRM software designed by VisitandCare.com reduces the points of failure essential in the healthcare industry — including the extended time gaps between receiving inquiries and contacting potential patients, removes the nonexistence of consistent organizational processes, improves the unsatisfactory management, benefits the shortage of resources for applying patient notes, and eliminates the improper use of management software.
The patient management software includes a complete tool-kit for doctors to manage patient and employee workflow — including a granular view into the performance of the patient coordination team as well as surgery management, language-based filtering of patient inquiries, allotting tasks between team members, measured performance of medical team and forward-thinking reporting abilities for leads and treatments performed.
The company also designed a complementary set of management tools for phone calls, a state-of-the-art recording system and a managing calendar for tracking purposes. The software will soon allow doctors to accept online payments and create invoices.
With a complete software suite for doctors to successfully manage workflow, the feature-rich system is designed to help the demanding healthcare industry systematize many of the current inefficient processes, freeing up time to focus on more imperative, patient-centered responsibilities.
Access to World-Class Services —
VisitandCare.com maximizes clinical success by adding value with CRM software, including:

Real-time visibility of leads from all lead generation sources
Integrated contact with potential leads
Simultaneous dashboard
Surge in conversion rates
Increase in company revenue
Performance reports
Top level view of the practice's overall efforts
Becoming a partner of VisitandCare.com, providers can access the ClinicCRM software to turn prospects into patients. The company has helped its medical providers earn over 40 million dollars in new patient revenue.
"We are very pleased to be partnering with VisitandCare.com and implementing such a powerful system like ClinicCRM," stated Lori Payne, Patient Coordinator at Reveert Hospital. "After using the software, our conversion rates drastically started to rise. I never miss a call and I never have to worry if I am overlooking anything. The ClinicCRM software allows us to stay committed to providing our patients with a completely streamlined and automated solution."
At VisitandCare.com — the sole certainty in designing the software — is in the belief that what gets measured, gets managed. The company positions opportunities for coaching and guides healthcare providers to make wide-ranging clinical improvements.
The company provides a higher level of granularity not generally found with other medical tourism companies. With quantifiable CRM software, the company is helping hospitals, clinics, and doctors worldwide engage in intelligent choices for their future success in an ever growing industry.
About VisitandCare.com
VisitandCare.com was created to give individuals worldwide valued direction locating a doctor, obtain free medical treatment quotes, and uncover affordable medical treatments at destinations of their choice. Improving Patients Lives |The company provides access to exclusive doctors and hospitals who specialize in infertility, plastic surgery, cosmetic dentistry, laser eye surgery, orthopedic surgery, hair transplantation, weight loss surgery, heart surgery and cancer care. Patients are matched with devoted multilingual patient facilitators and provided tangible connections to doctors worldwide. Promoting Your Healthcare Brand | For the ultimate connection between the healthcare industry and patients worldwide, the company delivers an unrivaled commitment to create sustained value for medical partners. Contact VisitandCare.com to see if you are eligible to become a partner of the exclusive network.