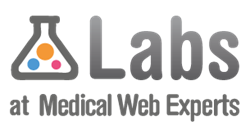 San Diego, CA (PRWEB) December 17, 2013
Healthcare web design, development and marketing innovator Medical Web Experts is pleased to announce the launch of Labs at MWE, a showcase of the company's innovative products in various stages of development. Medical Web Experts is dedicated to providing high-quality products and services to doctors, hospitals and healthcare organizations by developing custom online solutions that meet their business needs.
With over ten years of experience in the medical industry, MWE has built up a culture of product innovation and commitment to quality. Their in-house design, development and marketing teams collaborate to build programs, interfaces, and website add-ons with a high ROI to help providers effectively build their businesses. Products and services by Medical Web Experts have helped hundreds of healthcare organizations improve website performance, online visibility, and increase their patient base.
Each of the web solutions developed by MWE is based on more than a decade's worth of insight into what works in healthcare. The products showcased in Labs demonstrate MWE's experience and continued commitment to innovation. Some of the recent products developed by MWE include:

Medulous.com, a revolutionary new website that allows users to read and write reviews for their medical treatments online
2014 Edition certified Bridge Patient Portal, which can meet 100% of meaningful use criteria when paired with a certified EHR
A custom HIE interface engine to facilitate secure sharing of patient health data
MWE is also working on several new products, such as a health advertising network, designed to improve marketing campaigns for healthcare organizations and drive more traffic to providers' websites. Labs at MWE allows visitors to see how far along in the development cycle each product is, in addition to the date the product was or is estimated to be released.
To view the lab, visit http://www.medicalwebexperts.com/mwe-labs.php. For more information about Medical Web Experts' products in development, call 866-932-9944 or contact them online.
About Medical Web Experts
Medical Web Experts, a division of New Wave Enterprises, LLC, specializes in web design, custom development and Internet marketing solutions for physician practices, hospitals, health IT companies, and other health-related organizations. For more information about MWE's products in development, visit http://www.medicalwebexperts.com.