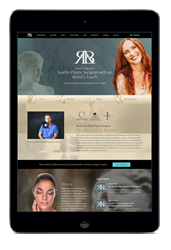 Seattle, WA (PRWEB) May 30, 2014
Local web design firm, Efelle Creative, launches new medical website for a Seattle plastic surgeon. The online marketing firm's website content management system powers Dr. Baxter's online service listings, SEO improvement, news blog, staff profiles, and more.
A formally trained artist, award-winning author, and board-certified plastic surgeon, Dr. Baxter is known for state of the art techniques and technologies to create natural looking results. He has been voted "Western Washington's Favorite Plastic Surgeon" and was elected by his peers to be listed in the "Guide to America's Top Physicians." Dr. Baxter is a nationally recognized expert in revision breast surgery, anti-aging, and nonsurgical technologies.
Dr. Baxter was looking for a branded and artistic medical website design, to reflect his industry experience and build his practice through organic search engine optimization. Dr. Baxter enlisted the help of Seattle web design firm, Efelle Creative, for business branding assistance and to provide a content management system, as well as SEO and website hosting services. In addition to getting a branded, custom website design, Dr. Baxter also began using Efelle's website content management system, FusionCMS.
Efelle's web-based FusionCMS platform allows Dr. Baxter's staff to make website content changes, in real-time, and manage everything from contact requests and patient forms to his photo gallery. The platform streamlines administrative tasks, decreases website maintenance costs, and even builds long-term organic search engine optimization.
To check out Dr. Baxter's new medical website design, visit http://www.drbaxter.com.
To learn more about Efelle Creative, visit http://www.seattlewebdesign.com.
About Efelle Creative
With more than 400 successfully completed custom website design and development projects under its belt, Efelle specializes in custom website design and development with an emphasis in organic search engine optimization. Over the past 9 years, Efelle has grown into a full, in-house team of web design and developers, internet marketing professionals, and production and support staff and continues to produce complete online marketing systems for clients nationwide from its Seattle offices. Efelle is an award-winning design firm and was recently recognized by the Puget Sound Business Journal as one of Washington State's Top 100 Fastest Growing Private Companies.
In addition to its professional service website platform, Efelle also offers other custom online marketing solutions including web design and website content management for ecommerce businesses, law firms, real estate industry professionals, chambers of commerce, and more.