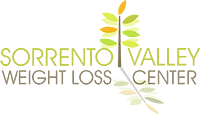 Patients are usually able to lose a tremendous amount of weight under the Board Certified doctors at Sorrento Valley, and keep it off too!
San Diego, California (PRWEB) February 12, 2015
One of the top weight loss clinics in San Diego, Sorrento Valley Weight Loss Center, is now offering $100 off all new programs. All of the medical weight loss programs are supervised by Board Certified providers, and may include prescription weight-loss medication, supplements and possibly the "Skinny Shot". Call for more information and to schedule a free consultation at (858) 465-7917.
For years, Sorrento Valley Weight Loss Center has been offering physician supervised medical weight loss programs that are safe, effective and work quickly. There are various methods offered at the center, which are customized to each particular patient"s needs.
This may include prescription weight-loss medication, nutritional supplements, nutritional counseling and injections such as the "Skinny Shot" to help with results.
The "Skinny Shot" is a specially formulated combination of lipotropin B12 and amino acids.The injection of the supplements helps patients metabolize fat more effectively and keep the weight off for good. The Board Certified providers at Sorrento Valley Weight Loss Center understand that medical weight-loss is not just about medication. It involves a comprehensive approach to understanding the roots behind one's weight, and treats the patient as a whole rather than with just a pill.
This provides for much better and longer lasting results than just prescribing weight-loss pills. Currently, the San Diego weight-loss clinic is offering $100 off any new weight loss program along with a free consultation. Call (851) 465-7917 for scheduling.