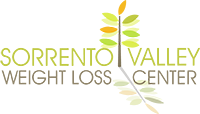 Sorrento Valley Weight Loss Center is now offering $100 off all weight loss programs, and the Lipotropic B12 injections offer a great jump start!
San Diego, CA (PRWEB) February 16, 2015
Sorrento Valley Weight Loss Center is now offering medical weight loss with several effective options. The new addition to the treatment options is injections with Lipotropic B12, which helps increase patient metabolism and jump start weight loss. Call (858) 465-7917 for more information and scheduling.
Most weight loss clinics in San Diego offer programs that are the same for every patient. With the medical weight loss at Sorrento Valley Weight Loss Center, the Board Certified doctors treat each patient with specialized options. This allows for the best results possible.
Lipotropic B12 injections include several amino acids and vitamins to assist the body with handling fat effectively, while also increasing metabolism. The injections are safe and effective, with the weight loss physicians monitoring the patient response throughout the course of care. (Disclaimer - the injections are not FDA approved or denied).
The injection contains powerful nutrients that improve red blood cells, immune system support, hormone balance, and serotonin production. It also repairs liver function, enhances fat metabolism, stimulates detoxification, and improves cholesterol.
In addition to the weight loss injections, the San Diego medical weight loss clinic also offers FDA approved prescription diet pills to patients when indicated. These can help curb appetite and contribute to significant weight loss in patients.
To date, the weight loss center has impressive results with patients, with many testimonials on the website. The physicians offer continuous monitoring for safety, effectiveness, and the best long term maintenance results.
Each program is being offered at $100 off currently. Simply call (858) 465-7917 for more information and scheduling.