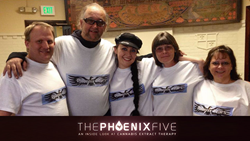 We are honored to have the opportunity to interview the Phoenix Five patients who have taken refuge in California and Colorado in order to seek medical treatment for cancer, epilepsy, and other ailments
Denver, CO (PRWEB) March 27, 2014
Illegally Healed LLC is a production company and advocacy group that is dedicated to helping bring awareness to the faith, science, and hope of medical cannabis. The cannabinoids found in cannabis have provided a number of people with positive results in the treatment of several serious medical issues.
"We are honored to have the opportunity to interview the Phoenix Five patients who have taken refuge in California and Colorado in order to seek medical treatment for cancer, epilepsy, and other ailments using a cannabis extract formula provided by Phoenix Tears foundation. These treatments are essentially still illegal under federal law," said Tony Baker, Director at illegallyhealed.com.
Illegallyhealed.com has started an indiegogo fundraising campaign to help raise funds to cover travel expenses required for travel to California, Arizona, Colorado, Texas and other states as necessary in order to interview experts and patients who are choosing to turn to cannabis over the often deadly and expensive pharmaceutical drugs made available by the medical community.
To find out more about The Phoenix Five and #illegallyhealed, please visit discover them on facebook, twitter or support the campaign at: http://igg.me/at/p5/x/5660644
About Illegally Healed LLC.
Illegally Healed is a production company dedicated to exploring the healing power of cannabis in the lives of people who have tried every legal treatment provided by the medical community. Illegally Healed LLC. works to spread the message about how CBD's are used in an effort to provide healing, maintenance and relief in the lives of people throughout the world that live in areas where medical marijuana treatments are still illegal.
About The Phoenix Tears Foundation
In keeping with the spirit of exiled activist Rick Simpson the new Phoenix Tears Foundation is an emerging coalition of neighborhood-based civic, community and spiritual leaders who share the common vision of eliminating cancer while building communities where there is availability to participate in credible 'fact based' scientific research, enhanced access to health and wellness services for those patients in need, and a commitment to life-long learning is the standard for all people.