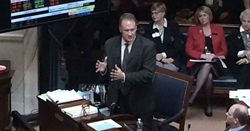 I realized it was misguided government policy that was keeping relief from these innocents and I started to take a different perspective.
Denver, CO (PRWEB) April 21, 2015
A conservative Republican Utah state senator has a "420" message for America: "It's time to legalize medical cannabis." In an exclusive video interview released this morning at illegallyhealed.com, Utah State Senator Mark Madsen discusses his own personal use of medical cannabis and advocates for national reform.
"We need to work from the principles of freedom and compassion and let the policy grow from there," says Madsen. "I believe we should allow individuals and their physicians to make their own decisions on whether medical cannabis is an augmentation or an alternative to other traditional medical treatments. Government has no legitimate place in that process."
In the exclusive interview for the April 20th, 2015 episode #4 of the 8 week Drug Policy Project of Utah video series released at illegallyhealed.com, Madsen revealed that in 2007, he was nearly killed by an accidental overdose of fentanyl when a patch his doctor prescribed accidentally tore and released a fatal dose of the opiate.
Madsen was the sponsor of recent legislation in the state, S.B. 259, which would have legalized the cultivation, production, sale and possession of whole-plant medical cannabis for a range of conditions. (fox13now.com/2015/02/25/bill-introduced-to-legalize-medical-marijuana-in-utah/) The bill was narrowly defeated by one flipped vote in the senate in March.
Shortly before introducing S.B. 259, Madsen travelled to Colorado to try medical cannabis, which he said provided great relief for his chronic back pain. In the video interview at illegallyhealed.com, Madsen says that he was inspired by the families lobbying for legislation which was passed in 2014 legalizing high-CBD medical cannabis extracts for epileptic patients.
"[These children] had been struggling with severe seizures up to the point of death," Madsen says. "I realized it was misguided government policy that was keeping relief from these innocents and I started to take a different perspective. It wasn't just about me and my back pain. There are other people suffering, and suffering worse than I, who could benefit from this. When it became an issue that was not just about me I realized I had to do something."
Madsen is a Republican Utah State Senator representing the 13th District, which includes some of the most conservative parts of the traditionally conservative state. Madsen was born in Washington D.C. and raised in Colorado. He is a proud NRA member and attorney who has championed libertarian causes during his tenure in the Utah State Senate.
Madsen is the grandson of Ezra Taft Benson, President Eisenhower's secretary of agriculture and president and prophet of the Mormon Church from the mid-eighties until the time of his death in 1994.
The video interview was released as a collaboration between the Drug Policy Project of Utah and Illegally Healed. For more information, please visit: http://illegallyhealed.com/utah-state-senator-mark-madsen-says-legalize-cannabis/
About #illegallyhealed
Illegally Healed is the largest repository for personal stories of people who have used medical cannabis. The site includes information and resources to help people seeking alternatives to help cope and potentially lead to a solution for a variety common health problems. To find find out more, please visit: http://illegallyhealed.com
About Drug Policy Project of Utah
Drug Policy Project of Utah is a 501(c)(3) non-profit working to reform state drug policies, promoting sensible changes to the law that facilitate legal access to medical products that can improve and even save live. To find out more, please visit: http://dpputah.org