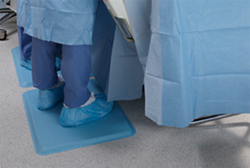 The bottom line is I will not operate without a GelPro Mat!
Cleveland, OH (PRWEB) June 30, 2014
The new Anti-fatigue Medical Mats feature a patented gel core that contours to the shape of feet to help relieve fatigue and discomfort. Scientifically engineered to provide long lasting relief from the aches and pains caused by standing on hard floors, these mats are ideal for surgeons, nurses, and medical technicians.
The GelPro Medical Mats feature four layers, with a top surface that is both anti-microbial and anti-bacterial while providing the necessary friction to avoid slipping, even in damp surgical booties. The second layer is a patented gel core that contours to the same of the feet to relieve fatigue and discomfort. The next layer is high-performance foam, all bonded to a high-traction, anti-microbial bottom surface certified by the National Floor Safety Institute.
Independent studies have concluded that the use of foot gel mats improves surgeon's comfort and ergonomics in the operating room by diminishing fatigue and discomfort. According to one of the doctor's in the study, "The bottom line is I will not operate without a GelPro Mat!"
The NFPA 260 and Cal 117 compliant GelPro Medical Mats come in three sizes of 18 x 24, 20 x 32, or 20 x 48 inches, and three colors. They are latex-free, easy to clean, and are compatible with hospital grade quaternary cleaners.
The Medical Mats are particularly well suited for use in:

Operating rooms
Radiology
Procedure areas
Medication dispensing stations
Lab testing areas
Pharmacy
All areas of hospital where extended periods of standing are required
About Martinson-Nicholls
Martinson-Nicholls, has established itself as a leader in custom anti-slip tape, floor mats, and eco-friendly products for 60 years.
Martinson-Nicholls provides the customer with the exact size matting needed--small, large, standard, nonstandard, special shapes and logos. Custom installations are also a specialty of the company.
Anti-slip safety tapes and treads are available in various sizes and textures from hand cut or die cut pieces to full rolls and special shapes. For more information, please visit http://www.floormat.com.