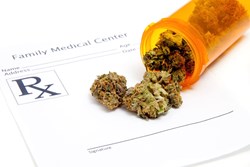 Be wary of medical marijuana evaluation clinics that refer you to a specific medical marijuana caregiver.
Boston, MA (PRWEB) September 17, 2013
According to The Holistic Center, patients who want to use medical marijuana to relieve the pain and symptoms of their debilitating medical conditions urgently need to be aware of the safeguards built into the new regulations from the Massachusetts Department of Public Health that govern every aspect of medical marijuana.
Joseph Dioguardi, CEO of The Holistic Center, says, "Be wary of medical marijuana evaluation clinics that refer you to a specific medical marijuana caregiver." It's against the law, says Mr. Dioguardi. He explained that the new state regulations prohibit the certifying doctors or any employees working at a medical marijuana evaluation center from providing any information as to where to obtain medical marijuana or having any relationship with a medical marijuana dispensary, once they are opened.
Mr. Dioguardi emphasized that The Holistic Center "has no affiliation with any medical marijuana dispensary." He said their staff of board-certified doctors, who are trained in pain management and committed to the concept that marijuana is serious medicine, perform thorough, non-invasive evaluations. They also furnish patients with medical marijuana educational material and will supply the same material to medical marijuana dispensaries, once they open.
The Holistic Center CEO, Joseph Dioguardi, also said patients should be aware that the new state regulations call for medical marijuana evaluation facilities to provide a medical marijuana certificate only after a patient's medical records have been reviewed. "We require medical records," said Mr. Dioguardi, "as should all qualified establishments."
Until the Department of Public Health begins accepting applications for qualifying patient registrations, the qualifying patient's initial medical marijuana certificate from The Holistic Center is their valid registration for the limited possession and cultivation of medical marijuana.
Patients who are qualified by The Holistic Center may, at the present time, possess up to 10 ounces of medical marijuana and may cultivate up to 10 ounces as long as they cultivate in an enclosed, locked area which can only be accessed by the qualified patient or their designated caregiver.
For patients seeking relief from the chronic pain and symptoms of their disorders, medical marijuana evaluation is the essential first step in the process. It is critical that patients suffering from cancer, HIV, Hepatitis C, ALS, MS, and other serious conditions not face unnecessary delays in the process. Knowing the new laws and working with an evaluation facility like The Holistic Center will avoid delays.
Massachusetts residents who want to take advantage of a holistic approach to relieving the chronic pain and other symptoms of their illnesses with medical cannabis can get more information and make an appointment for a medical marijuana evaluation by contacting The Holistic Center, 1505 Commonwealth Avenue, Suite 315, Brighton. 800-557-5699. http://www.THCevaluation.com.