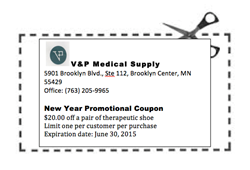 We make selecting and ordering medical supplies and equipment easy and confidential.
Minneapolis, MN (PRWEB) January 29, 2015
V&P Medical Supply is a start-up company focused on the distribution of durable medical equipment (DME) and home medical supplies (HME) to the home healthcare market segment. They offer high quality products and services to a diverse community to improve customers' quality of life. V&P Medical Supply announces they are now offering $20.00 off of therapeutic shoes.
"Since February 2014, our business has grown as more and more consumers demand our products and services. We have strong partnerships within the community and are confident our business will continue to grow, allowing us to expand within the next two years," says Maikia Vue of V&P Medical Supply.
V&P stocks various products and services such as standard wheelchairs, walkers, bathroom aids, diabetic care, urological/incontinence care and many more products of durable medical equipment. V&P offers wholesale and retail products to nursing homes, health centers and individuals for home use throughout the metropolitan areas.
"We make selecting and ordering medical supplies and equipment easy and confidential. Our commitments to our customers are: a well-stocked showroom for product selection, the highest quality products, excellent services, 100% customer satisfaction and on-time delivery," says Vue.
V&P also offers personalized instructions about the safety and use of DME equipment and accepts primary or secondary insurance sources. They also provide affordable payment plans for denied claims. They are an exemplary provider accredited with The Compliance Team, a nationally recognized healthcare accreditation organization that provides industry leading, Exemplary Provider® branded accreditation services.
The Compliance Team's accreditation model features healthcare's first comprehensive sets of plain language quality standards and expert mentoring guidance is proof that accreditation simplification works by eliminating distracting "minutia," so providers can focus on issues that matter most to patients.
For more information, visit:
V&P Medical Supply
5901 Brooklyn Blvd., Ste 112
Brooklyn Center, MN 55429
(763) 205-9965
https://www.facebook.com/vpmedicalsupply
JGM Properties works with over 200 tenants, including V&P Medical Supply, to provide office, warehouse, and retail space for lease in Minnesota. Founded in 1980, JGM Properties and owns and manages the Brookdale West building, as well as 15 suburban Minneapolis warehouse, and office space properties.