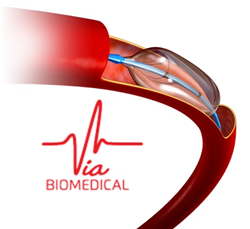 Via Biomedical is a leader in designing and manufacturing of medical devices, catheters, and medical balloons
Maple Grove, MN (PRWEB) August 04, 2016
Via announced today the launch of their new user friendly website. With improved navigation and functionality, Via Biomedical offers several new features to help clients easily access information and understand Via's capabilities.
Redesigned with the Customer in Mind
The launch of the visually appealing, interactive website will allow the user to explore the design process and gain a realistic expectation of what moving a medical device from concept to commercialization typically consists of. In addition to this, clients will now be able to access the company's Mutual Non-Disclosure form to begin their process immediately, saving time.
Expanded Capabilities
"We've also added an exciting feature called "Talk to the Expert". This allows potential clients to discuss their projects with our engineering experts immediately", said Paul Kohls, Sales Manager. "By simply clicking the icon you're able to start a conversation, via the internet, and get answers to basic questions. If you require more in-depth dialog we can quickly process our on-line Mutual Non-Disclosure, review your shared specifications and conduct a more detailed dialog". "Again saving time and money – this service is provided free of charge."
Via has also expanded its manufacturing capabilities adding braiding and reflow to their already extensive list of core competencies such as insert molding, fusing, tipping, swaging, packaging and more.
And although Via specializes in catheters and medical balloons, they have also developed and manufacture other medical devices from blood glucose monitoring systems to wearable computing devices.
About Via Biomedical
Based in Minneapolis Minnesota, a hot bed for medical device innovation, Via Biomedical, Inc. was founded in 2001 to provide unequaled design, development and manufacturing outsourcing solutions to the worldwide medical community. Since the beginning Via has served numerous medical disciplines including Cardiovascular, Neurology, Urology, Otolaryngology, Orthopedics, OB/GYN and has assisted in developing superior devices for Structural Heart procedures, Peripheral Vascular procedures, Pulmonary procedures, Obesity procedures and many more.