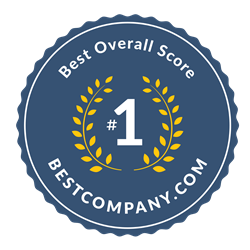 Our hope is that these recognitions can further assist consumers with identifying which companies are worthy of their trust.
Pleasant Grove, Utah (PRWEB) March 02, 2017
Medical Guardian, a leading provider of personal emergency response systems, has been awarded the "Best Overall Company" in the Medical Alerts industry by bestcompany.com, an independent consumer review site. Medical Guardian was selected to receive this recognition from among 103 other Medical Alerts companies based on the feedback of industry experts and consumer reviews.
"We're thrilled to receive the recognition of best overall company in our industry by bestcompany.com," said Geoff Gross, founder and CEO of Medical Guardian. "Providing customers and their loved ones with peace of mind so they continue to go about their daily lives with confidence can only be achieved by providing a superior medical alert system and support. At Medical Guardian, we continue to update our products and services, offering our customers the latest technologies to age in place."
With over 1,100 real consumer reviews on bestcompany.com, Medical Guardian distinguished itself from among its competitors by offering its equipment free of charge, with no setup fees or long-term contracts. Also, Medical Guardian has earned an impressive consumer review score of 8.5/10, the highest in its industry.
"We wish to congratulate Medical Guardian on truly earning this designation of the best overall company in Medical Alerts," said Best Company CEO Jeff Grover. "Our hope is that these recognitions can further assist consumers with identifying which companies are worthy of their trust."
For a full list of companies considered for this award, and their respective rankings and scores, please click here.
About Best Company
Best Company ranks and reviews companies in hundreds of different industries. Unlike other review sites, companies listed on bestcompany.com cannot buy their position, nor is a company's ranking manipulated or inflated by Best Company for financial gain. A company's ranking is based on and calculated by an objective set of ranking criteria, as well as user reviews. For more information on how Best Company ranks and awards companies, click here.
About Medical Guardian
Founded in 2005, Medical Guardian is a leading provider of Personal Emergency Response Systems (PERS) headquartered in Philadelphia, Pa. Medical Guardian provides reliable, affordable medical alert devices and superior support to individuals who want an independent, active lifestyle. The company serves tens of thousands of clients across the country, providing them with renewed sense of independence, and their loved ones with peace of mind knowing that help is just a push of a button away. Learn more about Medical Guardian by visiting medicalguardian.com, Facebook and Twitter.