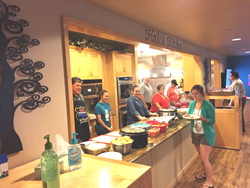 Seeing what these kids, and their parents, go through...The least we can do is cook them dinner
Fort Worth, Texas (PRWEB) September 16, 2016
For years, Empower Brokerage, specializing in Medicare Supplements and helping seniors save money, has prided itself on the work it does through UCT (United Commercial Travelers) – a 501 (c)8 non-profit financial services membership organization that supports communities through volunteer efforts across North America. Empower supports UCT's mission by selling UCT insurance products, and the sale of those products in turn helps Empower continue reaching out to their local community.
One way in which Empower Brokerage reaches out to the community is through volunteering at the Ronald McDonald House in Fort Worth, Texas, where they recently took time to cook dinner for the families of critically ill children currently in residence on August 30th.
Since it first opened its doors in 1981, this "home away from home" – as the Ronald McDonald House of Fort Worth (RMHFW) is so often called – does more than simply offer a night's rest, though it does so excellently with their cozy bedrooms and private bathrooms. The RMHFW goes above and beyond hoping to give a measure of comfort and a sense of normalcy to the families that visit. Parents can easily take care of everyday needs with the well-stocked laundry and dining facilities, and kids can still play, laugh, and have fun with the well-equipped game rooms and play areas. Last but not least, Mac – the resident labradoodle mascot – is the pet to all children, adding the final touches to the homey feel pervading the RMHFW.
"There is no other place in all of Tarrant County like the Ronald McDonald House of Fort Worth," says Ashley Neil, head of volunteers at the RMHFW. "We provide the essential things that everyone needs and allow our families to focus on their sick kids instead of worrying about where to eat, shower, or sleep. We are their home away from home at a time they need it most."
In addition to the facility and all its amenities, the RMHFW is also a community in that the families never feel alone. Throughout the day, the Meals from the Heart program brings together families, who understand each other's circumstances, as well as volunteers, who show their love and support by catering and serving meals. Neill noted that "in 2015 318 dinners were provided, [and] including breakfast and lunch, a total of 585 meals were provided."
Evident by the number of meals covered in 2015, "the Meals from the Heart program is extremely valuable because it truly meets a physical need our families have and we would not be able to provide meals without volunteers," says Neill.
With quesadillas, tacos, and nachos lining the buffet counter, Empower Brokerage provided a Mexican fiesta for several families, who came and dined, as well as shared their stories. One family happily shared that, though their son had to undergo a surgery to remove a golf ball-size tumor from his brain, they discovered the tumor was benign and their son is cancer free. Another mother talked of her son, who is in remission and continuing treatment as a preventative measure. With good food and even better stories, the Meals from the Heart program produces smiles and as Shannon Culp, COO of Empower Brokerage, said "seeing those smiles on the faces of the families we serve is the best."
In addition to the smiles of RMHFW residents, "the best part about volunteering at the RMHFW is seeing the families and the impact of what my volunteer efforts actually do; to see and know that I'm helping in some small way makes it all worth it," said Caroline Jester, leads and raters specialist for Empower Brokerage.
As Caroline said, Empower Brokerage is proud to support the RMHFW and be a part of the Meals from the Heart program, and as Medicare enrollment season approaches, helping others comes to the forefront.