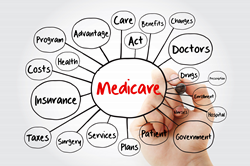 As always, seniors are faced with a wide range of options—including, for many, a crucial choice between Medicare supplement coverage, or Medigap, and Medicare Advantage plans.
LARGO, Fla. (PRWEB) October 18, 2021
The annual Medicare Open Enrollment period arrived October 15 and will run through December 7. During this time, Medicare plan enrollees can re-evaluate their coverage and make changes in existing policies or purchase new ones.(1) "As always," notes Dave Rich, CEO of Ensurem, a Florida-based insurance technology and product distribution firm, "seniors are faced with a wide range of options—including, for many, a crucial choice between Medicare supplement coverage, or Medigap, and Medicare Advantage plans."
Original Medicare Parts A & B, the traditional government-supplied health coverage, has no maximum limit on out-of-pocket expenses, and exposes patients to a number of other potentially serious costs. Medicare supplement insurance, or Medigap, explains Rich, is designed to provide coverage for some or all of these costs to Original Medicare beneficiaries. Medigap policies, which are sold by private insurance companies, are standardized on a state-by-state basis in terms of the costs they cover.(2) During a beneficiary's initial Medicare enrollment period—a six-month window around the month of the beneficiary's 65th birthday—new Medicare enrollees are free to purchase any Medigap policy sold in their state. After that time, Medigap policies are subject to medical underwriting, and applicants with health problems may be denied coverage.(3)
Medicare Advantage plans, on the other hand, offer an alternative to Original Medicare, not a supplement to it, says Rich. (For this reason, he notes, it is not permissible for an insurer or a broker to sell both types of policy to the same person.) Any Medicare beneficiary who has Medicare Part A and Part B coverage (doctor's office visits and hospitalization, respectively) or is becoming eligible for them, can join any Medicare Advantage plan available in their county. In addition to Part A and Part B coverage, says Rich, many of these plans also offer additional coverage for dental, vision and hearing services, prescription drugs and health and wellness programs.4)
These plans are increasingly popular: as of 2021, more than 26 million Americans, or about 42% of all Medicare beneficiaries, are enrolled in Medicare Advantage plans.(4) Different plans, Rich notes, are offered in different service areas, organized by state, across the country; they vary in terms of practitioner network requirements, coverage, premiums, deductibles, and other details. For 2021 there were a total of 3,550 Medicare Advantage plans available across the nation's service areas, giving the average enrollee 33 plans from which to choose.(4)
Most Medicare plans, notes Rich, require a certain level of financial outlay on the part of the beneficiary. While Medicare Advantage premiums can start as low as zero dollars per month (with some even offering money back on Part B premiums), there are still other out-of-pocket costs to be taken into consideration. It is entirely possible, he says, that some seniors will require financial help to help pay those costs. Sources of assistance include Medicaid, a joint federal/state program, state-level Medicare Savings Programs, and a Medicare/Medicaid program called PACE (Program of All-Inclusive Care for the Elderly).(5)
What will happen during the upcoming open enrollment period, says Rich, is that the vast bulk of Medicare beneficiaries will choose their health coverage for the coming year, either by changing what they have now or opting to leave it the same. To make the best choice, Rich says, seniors require accurate information about the plans and programs available to them. They also require a certain amount of help in assessing their needs and making certain that their most important requirements are covered.
"Do your research," he advises seniors. "Know what you need. Ask questions. Above all, insist on transparency. This is a complicated subject, but there are experts who know how to explain it and explain it well. Make sure you find them and talk to them."
About Ensurem:
Ensurem, headquartered in Largo, FL, is a leading technology and product distribution company serving carriers and consumers within the massive U.S. senior market. The company offers Medicare Advantage, Medicare Supplement, vision, dental, hospital indemnity and final expense insurance. It also provides end-to-end solutions for carriers, including product development, digital marketing and consumer-centric insurance technologies. For more information, please visit ensurem.com.
1. Norris, Louise. "Medicare Open Enrollment 2022 Guide." Medicareresources.org, 28 Sept. 2021, medicareresources.org/medicare-open-enrollment.
2. "How to Compare Medigap Policies." Medicare, medicare.gov/supplements-other-insurance/how-to-compare-medigap-policies.
3. "When Can I Buy Medigap?" Medicare, medicare.gov/supplements-other-insurance/when-can-i-buy-medigap.
4. "Medicare Advantage (Part C) Private Health Plans." Medicareresources.org, 8 Oct. 2021, medicareresources.org/medicare-benefits/medicare-advantage/.
5. "Get Help Paying Costs." Medicare, medicare.gov/your-medicare-costs/get-help-paying-costs.