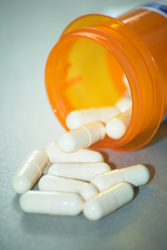 You can help raise awareness by sharing this information on Facebook, Twitter, and other social networks.
(PRWEB) March 31, 2014
Medication Safety Week begins the 1st of April, presenting the public with an opportunity to brush up on their knowledge of medication dangers. It's important to educate oneself on the risks, side effects, and other dangers of prescription medication.
A 1999 report by the Institute of Medicine, "To Err is Human," estimates that up to 98,000 people die each year due to preventable medical errors. What's worse is that children are the most common accidental abusers of medication. This highlights the importance of this week's medication safety campaign.
For Medication Safety Week, attorney Jeff Rasansky would like to share some tips that the public can use to keep themselves safe from some of the harmful effects of medication:
1. Store medicine in a dry and cool place. Additionally, one should make it a habit of throwing away old prescriptions and medicines every other month to avoid taking anything that's close to or past its expiry date.
2. Always make sure to read medicine labels carefully. Note any additional instructions on your prescriptions and ensure that they're followed as directed. Some medicines are supposed to be taken on an empty stomach, while others are meant to be taken with food. Always read the information provided with your prescription in order to increase the efficacy of the medication, as well as to avoid accidental overdosing.
3. Always consult with a doctor before taking supplements. While many of these supplements are made from natural ingredients, they still may be hazardous for certain types of people (such as those who are pregnant and individuals with liver or kidney problems). Your doctor will advise you on the safety of the supplements you intend to take.
Sometimes, one may be further injured by medication even when taken correctly. Unfortunately, it's not uncommon for medications to be recalled due to a defect. If concerned that a certain medication is defective, visit the ER as soon as possible. Victims of drug injuries may have an opportunity to collect damages (losses) from the drug company through a claim, lawsuit, or class-action suit.
It's not unheard of to be given the wrong medication at the pharmacy or the wrong prescription by a doctor. In such cases, the victim may also be eligible for compensation. The former scenario amounts to a product liability claim, while the former amounts to a medical malpractice claim.
For more information on drug injuries, please visit http://www.jrlawfirm.com/practice-areas/product-liability/dangerous-drugs/