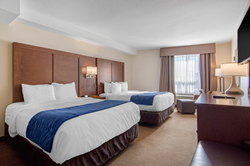 Guest response about the Comfort Inn and Suites' new look has been positive overall, reports Bruce.
MEDICINE HAT, Alberta (PRWEB) January 25, 2019
A Medicine Hat hotel has gone through a facelift with a major renovation to modernize its guest suites and rooms.
Owned by the Braemar Group, a commercial and hospitality development company in Western Canada, and a member of the Choice Hotels International chain of hotels, the Medicine Hat Comfort Inn and Suites has updated its 100 guestrooms with a clean and modern look.
"Being a Choice hotel means that there are certain standards that need to be upheld. That's why we wanted to modernize and freshen up the look of our hotel," says Carrie Bruce, General Manager of the Comfort Inn and Suites, Medicine Hat. "We are really excited with the results."
To celebrate the renovations, public figures, local business owners, and residents will be attending an open house on March 6, 2019. At the event, they can learn about the hotel's history and see the renovations for themselves. Find out more on the Comfort Inn & Suites Facebook event page.
Originally built in 1997, the three-storey, 100-room hotel includes 24 executive suites, five oversized Jacuzzi suites, and one two-level honeymoon suite. All guest rooms have been refreshed with new bathrooms, including showers featuring glass partitions, and bathtubs in the family rooms.
All rooms have also been outfitted with modern and bright furnishings, including new beds and bedding, as well as amenities such as 50-inch TVs in most rooms. In addition, all rooms and suites are receiving a fresh coat of wallpaper and paint.
A new hot tub is also being installed in the indoor pool area, while the hotel's common areas will be spruced up, with the resurfacing of wall coverings, in January 2019.
With most of the work now done, guest response about the Comfort Inn and Suites' new look has been positive overall, reports Bruce.
"We have wonderful guests who are excited that we have made improvements to the look and feel of the hotel," she says.
Measures were put into place to minimize disturbances to guests while renovations were underway, including posting notification at the hotel's entrance as well as online on its website.
"Most of the work was done during the day before our check-in time, and we also did the renovations floor by floor and blocked off certain rooms away from the construction for our guests to stay in," says Bruce. "Our staff also did an amazing job of making sure our guests were well informed and comfortable. They kept things going and pulled together as a team."
The hotel has also received high marks from a recent inspection.
"We received a 99 percent on cleanliness and for our furnishings," reports Bruce, adding that the hotel has also received positive reviews on TripAdvisor.
"They like that we've updated our rooms and have commented on the beds being comfortable. They also love our new modern bathrooms," she says. "We have tried to accommodate everyone who stays with us, including our many senior guests as well as corporate travellers and those looking for an overnight stay, as we are one of the Medicine Hat hotels on the Trans Canada Highway located at the east entrance into the city from Saskatchewan.
About the Comfort Inn and Suites in Medicine Hat:
Located on the Trans Canada Highway adjacent to one of the largest shopping centres in southern Alberta, the Medicine Hat Comfort Inn and Suites offers well-appointed rooms and suites for business travellers and tourists alike. The hotel also offers pet-friendly and accessible rooms and features amenities such as an indoor pool and fitness room, a business centre and meeting facilities, which can accommodate up to 50 people. Guests also enjoy a complimentary hot breakfast buffet with their stay.