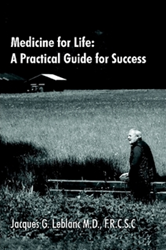 VANCOUVER, British Columbia (PRWEB) January 22, 2016
Whether the reader is a medical student, resident, family practitioner or specialist, "Medicine for Life: a practical guide for success" (published by Lulu) by Jacques G. LeBlanc M.D., F.R.C.S.C., is an essential guide for every facet of his or her medical career.
The book covers a wide variety of topics, such as choosing a medical school, residency training program, and type of practice; establishing a practice; finding support experts, like accountants, financial advisors, bankers and other professionals; understanding the realities, challenges and upcoming changes in medical practice; and preparing for retirement and retiring.
"This book will appeal to readers because the content covers the full spectrum of medical school, of developing and establishing a career—from starting a career in medicine all the way to retirement," LeBlanc says, adding that it will help readers "smooth out the 'bumps' one finds along the way and help to move towards a successful career path."
"Medicine for Life"
By Jacques G. LeBlanc M.D., F.R.C.S.C.
Softcover | 6 x 9in | 346 pages | ISBN 9781483441863
E-Book | 346 pages | ISBN 9781483441856
About the Author
Jacques G. LeBlanc M.D., F.R.C.S.C., was an adult congenital and pediatric cardiovascular and thoracic surgeon at British Columbia Children's Hospital, Vancouver, British Columbia. He retired four years ago after 30 years in practice. He was instrumental in developing multiple areas of pediatric cardiac surgery and adult congenital surgery. He has taught overseas, directing staff training at the Fudan University Children's Hospital of Shanghai and the Apollo Children Hospital of Chennai, India. He now does health care consulting and clinical research in palliative care. He has coauthored a medical book, "The Operative and Postoperative Management of Congenital Heart Defects," published 74 medical articles and made 96 verbal presentations. He currently lives in West Vancouver, British Columbia.
Lulu empowers people of all ages to explore and express their interests, passions and expertise through books, photography and art. Since introducing self-publishing in 2002, Lulu has empowered creators in more than 225 countries and territories to produce nearly two million publications. Lulu Jr. allows children to become published authors, encouraging creativity, strengthening literacy and building self-esteem. Picture.com offers professional photography of collegiate and professional sports, memorable and historic events, fine art and home décor. For more information, please visit lulu.com.
###