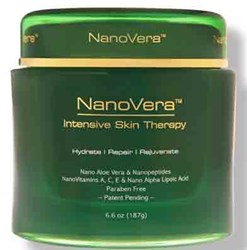 Los Angeles, CA (PRWEB) October 07, 2013
NanoVera® Intensive Skin Care Cream product is meant to cater to skin problems such as aged, sun damaged, dry, dull and lifeless skin, and it has shown profound results against fine lines and wrinkles, it is said that it can even be used as a powerful beauty cream that can help nourish, hydrate and protect the skin while making it look younger and livelier.
NanoVera®'s NV8 Complex promises the easy treatment of different skin conditions and problems, by incorporating active ingredients which work on different areas and layers of the skin, it produces a powerful synergistic effect which helps create a glowing and younger looking skin in seconds. The complex is made up of active ingredients which are in the form of Nano-particles; these microscopic compounds are readily absorbed and transported deep into the layers of the skin where they can easily nourish the deep tissues as well as provide their potent beautifying and rejuvenating effect. Their NV8 Complex is composed of special ingredients which help nourish skin cells, it is made up of antioxidants that help protect your skin from sun damage, exclusive peptide which helps develop and regenerate skin structure and texture, compounds which aid in the formation of collagen and increase hydration and help tighten skin tissues and muscles in seconds to get rid of stubborn fine lines and wrinkles.
The NanoVera® Intensive Skin Therapy Cream, with the addition of the NV8 complex is definitely one of MEDIDERM®'s flagship product lines; developed after years of research, it is now a comprehensive beauty product and it features the use of breakthrough Nanotechnology and time-release technology for immediate, yet long-lasting results. And with the NV8 Complex's debut, MEDIDERM® is also happy to announce their new 14-day trial campaign that can be availed through their affiliates. Interested parties can join MEDIDERM®'s Affiliate Program and avail of their trial marketing, but what's more, they can also avail of NanoVera®'s solid income generation as well as their full affiliate package.
For Clients who want to avail of NanoVera® Intensive Skin Therapy Cream's Affiliate program, they can get more details at the NanoVera® website (http://nanovera.com/), or they can get more information about the product at the MEDIDERM® website (https://www.medidermstore.com/wrinkles-creams-p/nv-611.htm). Wholesalers and drop shippers interested in selling NanoVera® can contact the company directly through their email (info(at)medidermstore(dot)com); affiliates can also sign up and avail of their latest promotions and offers at the company website (http://www.medidermstore.com/affiliate_info.asp).