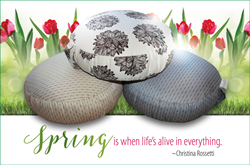 OSO was founded on the roots of designing environments grounded in simplicity, mindful of the earth and which encourage conscious living. — OSO Sisters
(PRWEB) May 18, 2015
Om Sweet Om (OSO) founders Jennifer Ream and Christine Landaal, aka OSO Sisters, announce the launch of their newest addition of designer organic cotton meditation cushions / prayer cushions. The new 15" meditation cushions are smaller and firmer to accommodate those with knee and back issues, but also perfect for traveling to and from meditation class.
This latest addition is made with the same 100% organic cotton inner and outer designer fabrics and natural kapok filling. "The decision to use organic cotton is the foundation of our brand," said the OSO Sisters. "The elements in your Sacred Space should reflect all of the positive energy that you want to receive during meditation / prayer time, including physical materials and how they were derived from the earth."
The new 15" meditation cushions have the same great standard features, such as a carrying handle, and removable zipper closures on both inner and outer layers. However, this latest addition also comes with a free organic cotton travel bag. Retail price for the 15" meditation cushions is $159.00. Available at http://www.ososisters.com.
A meditation cushion by Om Sweet Om is beneficial in achieving proper alignment and physical comfort in order to focus on prayer, presence and mindfulness meditation. The new OSO 15" cushion provides an additional choice to the existing line of 26" meditation-prayer cushions. The two different size cushions can be used together or separately to help achieve perfect posture.
Designated meditation cushions also act as a relaxation trigger: Increased meditation practice leads the body and mind to associate the cushion's superior comfort and support with a time to balance and reconnect "inner space."
Mindfulness meditation has been scientifically proven to be a positive, healthful, and energizing practice resulting in greater wellness for both mind and body. In this spirit, OSO meditation cushions are crafted in the U.S.A. from natural and sustainable materials.
The OSO Sisters' mission: to support the health of the planet as they support practices in meditation, mindfulness and prayer.
15" Meditation Cushion Product Description
**100% organic cotton inner and outer fabric layers.
**zipper closure for cleaning (spot cleaning recommended)
**Kapok filling
**Both layers are removable so you can adjust the amount of Kapok that's comfortable for you.
**Made by hand with love in the USA.
**15″ diameter, 4-5″ height
**Approximately 4lbs
**Carrying handle attached
**Usually ships next business day. May ship same day if ordered before 4:00 p.m. on a business day.
**Travel bag is 19″ wide x 16″ h x 4″ g. And 25″ handles to easily carry over your shoulder.
Free organic cotton tote bag with the purchase of a 15 inch cushion.