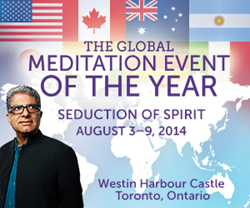 We offer natural products that accelerate the evolution of consciousness to a higher octave, one that supports immediate transcendence of pressing issues, locally and globally - a perfect fit for the Seduction of Spirit event.
Grand Rapids, MI (PRWEB) July 15, 2014
La Vie de la Rose offers flower essences and related Nature-based products created from new energetically evolved flowers grown in our sacred, urban garden. Flower essences are a profound form of energy medicine and our mission is to support people to transcend the limitations of the past and discover and express their highest potential...at an accelerated pace.
We are pleased to announce we will be exhibiting at Deepak Chopra's Seduction of Spirit event August 3-9, 2014 at the Westin Harbour Castle Hotel in downtown Toronto, Ontario.
Learn more about Seduction of Spirit and register here: http://www.chopra.com/seduction-of-spirit/august-2014.
Seduction of Spirit is a week-long meditation event designed to reconnect us to what matters most, including reclaiming inner and outer peace and prosperity. Each day, Deepak Chopra, Gabrielle Bernstein, and other master educators will lead workshops, yoga practices, and guided meditations dedicated to increasing global consciousness and connection.
La Vie de la Rose will be on-site sharing our flower essences for Accelerated Spiritual Growth™. An unprecedented response from Nature and Spirit to our collective call for personal transformation, La Vie de la Rose Flower Essences are oral tinctures and the only natural remedies that hold the keys and codes for Accelerated Spiritual Growth™... quickening our path to Ascension.
Learn more about La Vie de la Rose Flower Essences: http://www.laviedelarose.com/.
There is also a global meditation event happening during the week of the seminar. On August 8th, there will be a live broadcast from Seduction of Spirit in Toronto at 12pm EST inviting participants from around the world to join a Guinness record attempt for people meditating together.
Learn more about #IAMPEACE and register here: http://globalmeditation.chopra.com/.
About La Vie de la Rose Flower Essences
Established in 2006 by Founder and President Dr. Natalia Schotte, La Vie de la Rose Flower Essences is a Michigan, USA-based women's collective dedicated to creating products and services to accelerate the spiritual growth of humanity. Accelerated Spiritual Growth™ is a unique concept developed by Dr. Schotte and one for which we own the registered trademark.
Dr. Natalia Schotte is a pioneer and visionary in the fields of Spiritual Growth and Spiritual Healing. She has been an internationally acclaimed counsellor, healer, intuitive, speaker and teacher for over 25 years. Dr. Schotte holds a Ph.D. in Spiritual Counselling from The Open International University for Complementary Medicines. She is also a Level 5 graduate from The International College of Spiritual and Psychic Sciences. Dr. Schotte is ordained through the International Council of Community Churches. She earned her Bachelor's and Master's degrees in Industrial Relations from the University of Toronto.