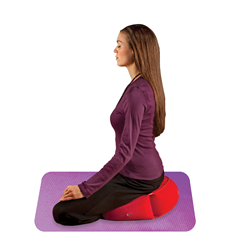 Our cushions have been widely accepted throughout the market and we wanted to add an additional product to make meditation on the road easier.
Longmont, CO (PRWEB) February 27, 2014
BrightSpot Solutions, an invention and product development company, announces the release of their Mobile Meditator Travel Mat. The dual-surface meditation mats contain a microfiber top surface and a soft cushioning non-slip grip on the bottom. Each mat is 24" x 36" x 3.5mm thick and folds to about the size of a sweatshirt.
The eco-friendly mats are 100% PVC free, contain no latex and are easy to pack or carry. Mobile Meditator mats are available in purple and turquoise.
With airlines introducing new and increasing fees for luggage, people are now traveling lighter and leaving more items at home. The compact Mobile Meditator products occupy minimal space in a suitcase or carryon baggage and saves valuable space on camping and backpacking trips.
Scott Salzman, developer of the Mobile Meditator line of products notes, "Our cushions have been widely accepted throughout the market and we wanted to add an additional product to make meditation on the road easier."
Mobile Meditator products cost $29.95 and can be purchased at http://www.MobileMeditator.com/purchase or Amazon.com.
About Mobile Meditator Meditation Cushion
Whether on the go, or looking for everyday comfort at home or in the office, Mobile Meditator allows the sitter to be relaxed, balanced, and with perfect posture. The crescent-shape design assists the body in maintaining a forward slant, taking the pressure off the knees, hips, back, and ankles. For traveling, the pillow quickly deflates and fits into a small 9" x 9" x 3" pouch, weighing under 18 ounces.
Mobile Meditator was invented by Scott Salzman, president of BrightSpot Solutions. As a daily meditator and avid whitewater rafting and back country guide, Mr. Salzman recognized the need for a portable meditation cushion and travel pillow.
"When traveling for work and to retreats, I needed a meditation cushion to carry with me that didn't take up a lot of space or weigh down my bags," Salzman said. He solved both problems by creating a meditation cushion that was comfortable, light weight, and easily compactable. Mobile Meditator products are perfect for daily use. Because of the adjustable three-chamber design, users of the inflatable meditation cushion often adopt the Mobile Meditator as their regular everyday pillow, putting their traditional cushion into retirement.
About BrightSpot Solutions, LLC
BrightSpot Solutions was founded by Scott Salzman in 2003 as an outlet for invention. BrightSpot is determined to create an entity of unparalleled functionality and professionalism seeking to provide both consumers and professionals with the absolute highest quality and functionality amongst its products. Our commodities promote healthy environments for humans and animals alike.
For more information about Mobile Meditator, visit http://www.MobileMeditator.com.
Members of the media interested in testing Mobile Meditator products for editorial review, should contact Scott Salzman.