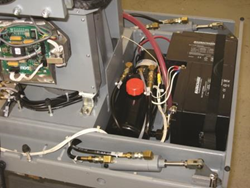 A brand new surgical table might cost you $50,000; whereas the same remanufactured table from Meditek will cost you only $30,000.
Winnipeg, Manitoba (PRWEB) March 25, 2014
The Meditek Remanufacturing Program was created over 30 years ago with an initial focus on surgical tables which then led to surgical lights and stretchers. The current expansion will now cover an additional range of medical equipment which includes:

Birthing beds
Hospital beds
Lithotomy leg stirrups
The Remanufacturing Program is testament to Meditek's position as a leader and innovator of medical products in Canada.
"Our remanufacturing program is unique, as it is more than just refurbishing. We disassemble the product completely right down to the nuts and bolts, replace broken or worn parts, paint it, refinish the stainless steel, rebuild components, provide overall restoration and then reassemble the equipment. Lastly, we give it an aesthetic makeover as a final touch," says Brad Samuels, Meditek Marketing Manager.
"Refurbished medical equipment, on the other hand, is more of a cosmetic restoration and minor rebuild but not a complete overhaul. Refurbishing typically takes about half the time of remanufacturing."
To date, Meditek's Remanufacturing Program has remanufactured over 950 surgical tables in Canada. Many hospitals have seen the benefits firsthand that remanufacturing entails, such as:
Budgetary/Cost savings
A finished product that is good as new
Environmentally friendly
Unmatched 2 year on-site parts and labour warranty
"With current health budget restraints getting tighter and the trend towards being more environmentally friendly, remanufacturing just makes sense. It allows Canadian hospitals to have more flexibility in their budgets and to maintain a level of standardization among their medical equipment. A brand new surgical table might cost you $50,000; whereas the same remanufactured table from Meditek will cost you only $30,000; and, we guarantee the quality of the finished remanufactured table is the same as new," explains Chris Samuels, Meditek General Manager.
Common signs that an operating table is ready for remanufacturing:
Table top or sections are drifting down under the patient's weight load
The table top is unstable, making it difficult to perform intricate surgery
Broken controls and indicators
Peeling paint
Oil leaks
Hydraulic or electrical problems
Not locking securely to the floor
Stiff and irregular main lift movement
Worn or noisy gears
Contact Information:
Brad Samuels, Marketing Manager
Meditek
1.800.567.8400
info(at)mediteksurgical(dot)com
http://www.mediteksurgical.com
About Meditek:
Meditek, located in Winnipeg, MB, provides the Canadian medical industry with healthcare products such as operating room tables, operating room lights and stretchers; as well as services such as product installation, leasing and rental. More information about Meditek can be found at http://www.mediteksurgical.com.